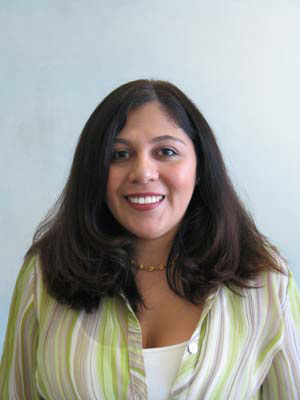 Maria Avila was a dot-commer earning six figures working for a tech company. But that career didn't feel right.
"I left before the bust and worked for a non-profit for a year, hoping to find the fulfillment my tech job lacked, but the bureaucracy was difficult," she said. "I decided to pursue my dream of becoming a scientist."
She started back to school at Morpark College, working from the ground up in the math skills she'd forgotten since her first round of college. Now, in her thirties, Avila is nearly ready to graduate from UC Merced in Biological Sciences and planning to go to graduate school in microbiology and immunology.
It takes courage to make a career leap like this, Avila acknowledges. She credits her success to her close, supportive family of first-generation Mexican-Americans.
"I'm the first one to go to college, so they don"t always understand what I'm doing, but they still post my report card on the fridge," she said.
Avila has excelled not just in graded classroom projects, but in extracurricular research. With Professor David Ojcius, Avila is studying genes that may block Chlamydia infection. With Professor Matt Meyer, she is working to develop a microbicide to block sexually transmitted diseases.
"I've found phenomenal working relationships and experiences I never would have had at any other school," Avila said. "But you have to ask to find them. That's the number one thing."
Professors Miriam Barlow and Jennifer O. Manilay have also been mentors, helping Avila find the best opportunities as a woman and a minority scientist.
Because of her experiences at UC Merced, Avila is confident applying to graduate schools this year.
"I'll have the flexibility to apply to any graduate school I want," she said.
And her success will make a difference for generations to come in her family.
"I get to mentor my nieces and nephews," she explained. "My sisters raise them with the expectation of going to college, and I'm the weird aunt who shows them how to blow things up and makes science interesting."