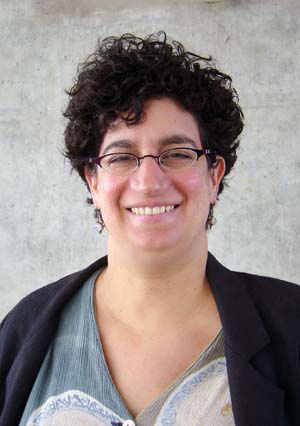 China seems to be in Ruth Mostern's blood.
Since her 10th-grade National History Day project, the founding UC Merced faculty member continues to study one of the world's oldest civilizations, from its language, politics and culture to an ancient but advanced water management system.
One of her long-term projects involves researching the Dujiangyan Irrigation System, a UNESCO Heritage Site that controls the waters of the Minjiang River in south central China. This 350-mile-long waterway has been efficiently - and astonishingly - managed since the mid-200s B.C.E.
More than 2000 years ago, Chinese engineers figured out a system of embankments and canals that keep the river at consistent levels without dams, preventing flooding and drought. The system maintains a stable water course and allows the river to irrigate the farmland of over 30 counties in the fertile Chengdu basin. Upriver from Dujiangyan, the Minjiang valley is a trade route between the Tibetans in the nearby mountains and the Chinese along the plains.
It's technology other countries could learn from.
Her research will involve hydrology, engineering, urban planning, geology and archaeology, and in the end, she hopes to be able to produce books, papers, an interactive Web site complete with animation to show how the system works.
"I'm so excited about it," she said. "It's a project that will take me through the next phase of my career."
Ultimately, though, the project will strengthen UC Merced's ties with Sichuan University, our partner in the 10+10 Program linking the 10 UC campuses with 10 prestigious research universities in China.
As part of the program, Mostern visited Sichuan in August with other UC Merced and faculty and administrators, just as she wrapped up a summer of collaboration with colleagues at the University of Sydney in Australia. Together they are building an interactive, digital timeline system involving many of Mostern's passions: technology, history, culture and geography.
Using a Hewlett Foundation grant, Mostern plans to enlist community college students to help research and input information for a historical event database, allowing users to select data to allow users to delve as deeply as they want into any period in history.
Both of her big projects continue while she teaches, mentors graduate students and completes a book on medieval imperial China.
"I've just never lost interest," she said.