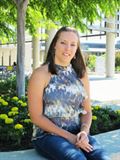 Portia Mira considers herself lucky. Although the UC Merced senior was taken from her parents and spent five years in foster care, she said she and her sister are much better off than most.
"Most foster kids don't graduate from high school," said Mira, a biological sciences major. "We are fortunate we had great foster parents."
Mira, who was born in Modesto and raised in Merced, has worked hard to get ahead despite her past. She transferred to UC Merced from Merced College in August 2011 after some prompting from her husband, Jairo, who works in Dining Services on campus.
"The students who work for him in the dining commons often tell him how good the faculty are," Mira said. "I wanted to pursue my bachelor's and this seemed like the best option for me."
Mira has an 18-month-old daughter, so the campus' proximity also played a role in her decision.
"Thanks to my daughter I was able to quit work and continue college," said Mira, who worked in customer service at AT&T for four years. "There was no way I was going to do all three at the same time."
Mira is glad she decided to devote her time to attending classes, studying and caring for her young daughter. She said she found university-level classes much harder than she anticipated.
"The first semester was so hard. I thought, 'How am I going to do this?'" said Mira, who is studying biological sciences. "The difficulty level is so much harder. I give a lot of props to the students who come here directly from high school."
Mira said by her second semester she got the hang of it. She is planning to graduate in May. She is considering applying to a physician assistant program in Fresno and is getting hands-on experience helping to care for her 85-year-old biological grandmother who has kidney failure and other ailments.
"When I was little, I always wanted to be a dentist," Mira said. "I was interested in health, but more so since my grandmother got sick. Now I want to know why she is sick, what's wrong, what caused it?"
Mira and her husband are also taking responsibility for her 17-year-old sister, Akilah Kurpiel, who has microcephaly, a neurodevelopment disorder. They have moved into a new house to accommodate her when she turns 18 and emancipates from the foster care system.
Although Kurpiel just graduated from high school, Mira said caring for her will be like having another child.
"It is going to be tough, but she is my only sister," Mira said. "I am going to take things as they come." Mira, poised to graduate and continue on with school, has already shown how she can overcome just about any challenge.