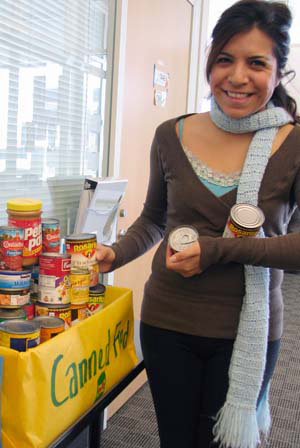 Since the campus's opening last year, Enrique Guzman, coordinator for Student Life, said students have been knocking on his office door every semester with fundraising ideas in their heads and the spirit of giving in their hearts.
Students want the community to know that we care, Guzman said.
This holiday season was no exception. Many UC Merced students and staff members put aside their own wish lists to bring smiles to other people's faces.
The Toys for Tots barrels have been filling up with gifts around campus, and five students recently participated in the Dollars for Scholars Walk in Fresno to raise money for scholarships.
Rosanna Cruz, 19, a sophomore and intern in the Office of Student Life, said she wanted to give directly to the community and help make sure people had enough to eat this holiday, so she helped start a canned-food drive.
This is our new home for the next couple of years, she said. We should give back to the community.
Some student clubs participated, gathering up cans that Cruz will take to local food pantries or groups that give out holiday food baskets.
The campus police department's UC Mentoring Program came up with its own plan this season: Give a child who otherwise might not celebrate Christmas a gift and a night to remember.
Recently, about 210 children attending Reyes Elementary School in Merced received gifts hand delivered by UC Merced students who act as their mentors.
I met with some of the kids today because we give tours every month, and one little girl unzipped her jacket and said, 'look Officer Maria, I'm wearing the shirt you got me,' said Maria Botwright, UC Merced police officer and advisor to the mentor program.
Botwright said to see children take pleasures in the smallest joys of the holiday is heartwarming, to know that she and her students had a hand in it is beyond words.
The Mentor Program's angel tree featured Reyes students' wish lists, and Botright said thanks to students, staff, faculty and the community, they received more than the 210 they needed.
This shows that the community is willing to work together to help each other sometimes you just need a middle-man like the mentors,' she said.