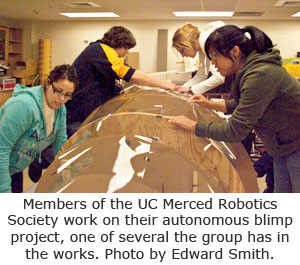 The formation of UC Merced's Robotics Society is a story of collaboration and cooperation. Its existence, so far, has been no different.
The brainchild of
engineeringmajors Ernesto Mora and Joshua Gonzales, the Robotics Society formed last summer and has grown to include 12 members representing all three schools —
Engineering,
Natural Sciences, and
Social Sciences, Humanities and Arts.
The club, though still in its infancy, has undertaken some ambitious projects, including an autonomous blimp, a combat robot, a robotic explorer and an autonomous plane. Most have included help from fellow scientists in other clubs and organizations.
"None of these projects have been completed as of now, but we are a young club and will continue to work toward our goals," Gonzales said. "In the near future, our club wishes to become an avid competitor in robotics competitions like RoboGames while remaining an open-to-all student organization on campus."
The club's origins can be traced back to the spring of 2008, when Mora — in his freshman year at UC Merced — got involved with the school's service learning program, now known as
Engineering Projects in Community Service(EPICS). Mora joined the EPICS Merced County Office of Education team, Get S.E.T. (Science, Engineering and Technology), and began working with local K-12 students. The following semester, he became the leader of the program's robotics sub-team, creating activities that helped students understand the principles of engineering, robotics, programming, magnetism and physics.
Gonzales was also a member of Team Get S.E.T. and was the first person Mora approached with the idea of starting up a new club. They created the unofficial "Society of Makers" in the spring of 2009, joining members of the Merced chapter of the American Society of Mechanical Engineers on trips to the Mojave Desert for RocStock and to San Francisco for the RoboGames.
That summer, with a supporting cast that included current club president Edward Smith and current secretary Melony Bowling, the group came together. They settled on the less ambiguous "Robotics Society" name in the fall.
"Our primary reason for starting the Robotics Society was that we saw little interest among the established professional engineering associations for supporting projects like ours," Gonzales said. "Furthermore, we wanted to create an organization that was open to all schools and disciplines, and not limited to engineering."
Most recently, the Robotics Society has begun collaborating with the local Society of Women Engineers group on an autonomous blimp that, when completed, will be outfitted with a wireless camera and GPS and controlled by a computer. The blimp would be programmed to follow a specific path and stay a certain distance from the ground and buildings, and it would take off and land on its own.
Members of the group also participated in a 4-H activity called ArtBots, in which children were taught to create robots out of an electric motor, pencil eraser, rubber bands, markers and a cup that would then draw on paper.
Such activities mesh well with the Robotics Society's goals, which call for a heavy dose of collaboration and community involvement.
"The funny thing about how the club was started is that we weren't trying to form a club," Mora said. "We were just a group of engineering students interested in various projects that would allow us to use the material we learned in class and apply it to projects we could share with the community."