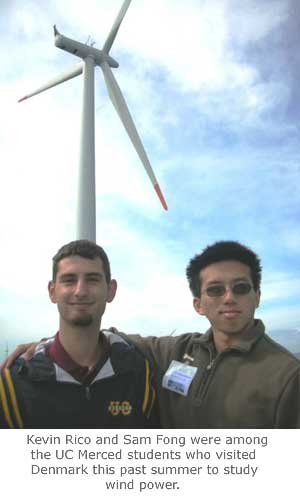 Lolland used to be the poorest part of Denmark. A major shipyard that had employed most of the citizens closed. Unemployment sat at around 25 percent. Nearly half the population used government aid.
Today, it's turned around. What made the difference? Renewable energy, said UC Merced students who visited Lolland as part of the
LoCalRE Summer School program, which is a collaboration among UC Merced, UC Santa Cruz, UC Davis and the Roskilde University in Denmark.
Political leaders in Lolland decided to make significant investments in renewable energy, especially wind and garbage-fueled power.
The picture looked familiar to the visiting students.
Basically Merced today is like Lolland 10 years ago, said graduate student
Uday Bali. But he and his fellow students won't allow the problems they see in the region deter them from building their lives and careers here. They see potential in the Central Valley - and it's all about solar.
Professors from Santa Cruz and Roskilde mentored the students closely during their time in Denmark as they prepared a proposal for a renewable energy industrial park, envisioned for the former Castle Air Force Base. Because of the strong cohesion and interdisciplinary strengths of the UC Merced group - it included six students from engineering and business majors - their proposal was generally recognized as the strongest in the program. They were able to address diverse aspects of renewable energy implementation because of this - and because of what they learned in Denmark.
During the trip, I learned how much the social and political aspects play a role in the success of renewable energy, grad student
Kevin Balkoskisaid. The U.S. doesn't lack technology, wealth, or knowledge. But I was surprised to how much 'green' thinking is a part of the modern Danish culture.  I am waiting for the day this happens here at home.
Next year, Danish students will visit California to learn about renewable energy efforts here. The trip was initially planned to include time in Davis and Santa Cruz, but because of the strong performance of the Merced delegation in Denmark, there's considerable talk about amending the agenda to include a visit to the newest UC campus.
The students are involved, said Bali. We're coming up with plans. The most exciting thing would be to show them around here.
Solar energy research is proceeding apace at UC Merced, so there will be plenty to show off when they arrive.
And in 10 more years, this region may just have its own dramatic turnaround to boast of to the rest of the world.