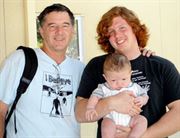 David Brantley isn't a typical UC Merced student.
He's older by a few decades. He's already built a career as a professional photographer. And he's the patriarch of three generations of Brantleys on campus.
Brantley's son, also named David, is a fellow UC Merced student. And his 3-month-old grandson, Dylan, spends time at the university's Early Childhood Education Center while the younger David is in class.
So Brantley, 59, isn't the conventional college student. But the married father of three is back in school for traditional reasons: to learn and build job skills.
"It's my personal response to the economic downturn," said the anthropology student.
Brantley, of Merced, is a photographer and outdoorsman. He was born in Yosemite National Park, where he launched a lifelong love affair with nature displayed in his scenic pictures.
Yet when the economy soured, Brantley decided to try another path. He took a few classes at Merced College but realized, "I can't even be a substitute teacher without a bachelor's degree."
Commuting was out of the question due to family and other responsibilities. Brantley, who holds an associate's degree, said it was critical that UC Merced was in his backyard. He collected his decades-old community college transcripts, took a few more classes at Merced College and enrolled at UC Merced last spring.
College life was a bit different than Brantley remembered — for example, the technological divide. While other students carried iPads and laptops, "I just had a pencil and paper," he said.
But Brantley bridged the gap, learning to submit assignments online, and mastered the challenge of writing papers. He also found acceptance with classmates he generally described as smart, serious and motivated.
He was surprised — and grateful — to have easy access to UC Merced faculty. Brantley said he's talked to different professors about climatology, ecology and other subjects, asking "all of the questions I've accumulated over 30 years."
In anthropology, Brantley hopes to combine his passions. He wants to be a naturalist — someone who understands all aspects of an area, ranging from history to ecology to geology to culture.
Brantley said he might like to specialize in Yosemite, where he's logged many miles over the years.
"I used to go up there for a month and come back looking like Bigfoot," he said.
Already, Brantley is sharing knowledge with UC Merced students and others.
He was hired last spring as an Outdoor Adventure Program supervisor — helping plan and lead trips for the Recreation and Athletics program. The trips range from kayaking in the San Francisco Bay to backpacking in the Sierra Nevada.
David Noble, associate director of recreation and athletics at UC Merced, said Brantley's background is a plus.
"Hiring Dave provided us with intangible yet proven skills and a seasoned leader other students could learn from," Noble said. "He is a hard and energetic worker who also serves as an inspiration to others."
Brantley, who said he loves the job, hopes to finish his degree within 1½ years. That might coincide with the graduation date of his son, who studies physics.
Father and son even share an art class this fall. Son David said he appreciates seeing a different side of his dad and also spending time with him at UC Merced.
"I think it's great that he's going back to college," he said. "It's never too late to better yourself."