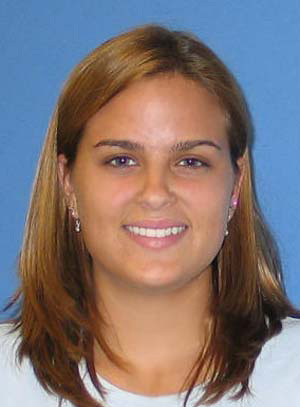 Sophomore engineering student Jessica Zenger has already proven she's ingenious.
Not only has she mastered the nuts and bolts of integrated calculus and physics, but she's proven adept at sophisticated time management, as well.
She commutes between classes in Merced and her weekend job at the Garré Winery and Café in Livermore, reads "everything I can get my hands on" and maintains a 3.8 grade point average, which earned her a recent Student Achievement Award from the School of Engineering.
Her biggest challenge?
"Working out my class schedule to balance both my engineering needs and, literary passions," she said.
Zenger, 19, wanted more than textbooks when she went searching for a university.
"My original goal was to graduate with a degree in biology," she said, "but I found I relished a good puzzle."
She decided she wanted to build an engineering future at the same time she practiced building the kinds of things engineers are trained to build. She wanted a school that inspired students to craft solutions for community needs.
She was especially interested in UC Merced's Service Learning Program, where teams tackle projects like designing a natural lighting system for the gem and mineral display at the new California State Mining and Mineral Museum, in Mariposa, and configuring solutions to technology information systems for abused and battered women and their children.
"UC Merced was one of the better choices for me, as it is one of the few campuses that is delving into not only the traditional textbooks as a way of teaching, but also uses hands-on research," she said.
Zenger doesn't have a favorite professor - she has two: " Professor Tom Harmon for helping me out with almost every homework assignment and dealing with my constant flow of e-mails, and Professor Christopher Viney for his ever-present enthusiasm." She doesn't hold it against Harmon that he taught her toughest class yet - environmental engineering.
It's just the kind of challenge Zenger enjoys.
Now she's looking at options in environmental engineering and making a contribution to the research of renewable energies, she said.
And finding time to get to the beach.
"Over the summer I was in Capitola with friends like twice a week," she said.