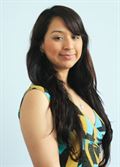 Grecia Sanchez and Blaine Hartsock know they're more than lucky. Out of dozens of UC Merced seniors, they were chosen to speak and sing, respectively, at the 2012 Commencement ceremony.
"I don't believe in luck, I believe in blessings," Sanchez said. "I remember that as I wrote my speech I asked God to help me write from my heart, and that's what I did."
Sanchez, a Merced native, majored in sociology with a minor in political science and plans to attend law school.
"I want to help those who cannot stand up for themselves," she said. "I don't just want to be a lawyer — I need to be a lawyer, because I want to help bring justice and support to people who need it."
She's already reaching out to others by serving as an orientation leader, a resident assistant and a peer mentor for students applying to UC Merced from high schools in the Central Valley.
About her commencement speech, Sanchez said, "I'll talk about how education is the greatest liberator and the greatest force of social progress. Being part of admissions at UC Merced showed me how committed we are, not only to our current students, but to future generations."
Sanchez particularly looks forward to her father attending commencement. She credits her brother and sister for motivating her and her parents for bringing her up with love, faith and strong values.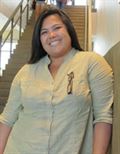 Hartsock's gratitude and conviction run along similar lines.
"I cried — like, an ugly, sobbing cry — when I read the email," Hartsock recalled. "UC Merced has offered me so many opportunities and helped me grow into a better and more responsible person. What better way to say 'thank you' than singing? I really am honored and thankful."
Hartsock grew up in Tehachapi. She studied world history at UC Merced and took every music course she could, as well as participating in the a capella group FLO and the Filipino American Alliance choir in addition to joining the Delta Gamma sorority. After graduation, she plans to apply to the Peace Corps — a family tradition, as her father and grandfather also served.
"I love to travel," Hartsock said. "I've been to China and the Philippines, and I speak Japanese and Cebuano (a Philippine dialect). With the Peace Corps, I feel like I can go someplace new and say, 'Let me help.'"
Afterward, she hopes to take the foreign service exam.
Having sung at her middle and high school commencement exercises, Hartsock did hope to continue her streak. But she felt nervous about the audition process.
"I knew the other people who tried out, and I love their voices; they're amazing," she said. "I would have been happy if anyone had been chosen. But when I called my sister and parents after I learned it was me, they told me they knew I'd get it. That support means a lot, and I'm so thankful."