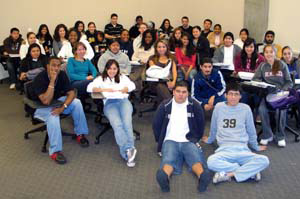 Students signing up for Robin DeLugan's Anthropology 1: Introduction to Socio-cultural Anthropology probably weren't expecting to spend part of their class at the local mall.
But through the class' service-learning project, that's exactly what happened.
From the feedback I read, a lot of students got a lot out of it, said sophomore Martin MacLeod, 19, from the Bay Area. He's a business management major, but said his experience with the class and the project was so positive, he's taking DeLugan's upper-division course next year, and even decided to make anthropology his minor.
Service learning is not simply doing community service – it comes with a structured curriculum and specific objectives related to the class through which it is offered.
The Engineering Service Learning program has teams of engineering students working to solve issues for a variety of community groups, such as preparing databases for some, organizing and improving Web sites for others, and even finding an inexpensive and less-damaging lighting source for a small, underfunded mineral and gem museum.
But the 42 students in DeLugan's class aren't in the engineering program, so their project was different. Most worked on the Helping Hands Fair at the Merced Mall, an annual event that brings together social service and community organizations to educate people about resources and increase volunteerism.
DeLugan said her students assisted before, during and after the event, trying to help organizers find the most effective ways to present information about community resources. They interviewed participants and attendees, helped set up, manned booths, observed and compiled research data that fair organizers can use to make next year's fair even better.
MacLeod oversaw a lot of the work, and learned that in projects like this, everyone needs to be very observant and organized.
DeLugan said service-learning projects are something all professors can do, but it takes planning and work.
The projects are good for everyone involved. It's one way to forge stronger community-university partnerships and educate students not just about their class, but about the community.
A lot of students got a different perspective of Merced, MacLeod said. They saw that there is a lot going on, but you have to go out and get involved.