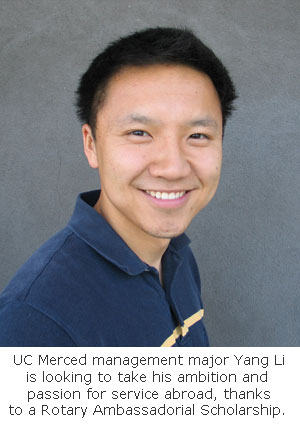 Yang Li picked UC Merced because he believed the campus offered him the best opportunities to grow. He worried at first about the rural setting and the newness of the institution, but the people at UC Merced quickly overcame his misgivings.
Li's parents - strong advocates for his education - encouraged him to visit UC Merced's counseling services to help him adjust.
"In an almost subconscious way, the counselor lured my best self out of me and into the world," Li said. He also talked with staff, faculty, administrators and fellow students who helped him feel welcome and ready to take on the next phase of his life.
Li, a
managementmajor, joined high-profile student projects at UC Merced. Through his entrepreneurship class, he participated in an interdisciplinary solar
daylighting teamaiming to create a plan for bringing that green technology to market.
"I learned to communicate to help minimize errors, get work done efficiently and make a finished product we were all proud of," Li recalled. "Working with my team taught me the importance of having expertise in multiple disciplines."
He also aided the student-led effort to bring Michelle Obama to UC Merced as the 2009 commencement speaker. Using previous experience in local politics, he gained crucial support from the city of Merced and helped draft a resolution in support of the students' efforts.
"To say the campaign was successful couldn't encapsulate the wonder, joy and excitement I felt when it was announced that Mrs. Obama was coming," Li said. "It made me realize dreams can be made real if you really believe and commit."
Accordingly, Li looked to his own future by applying for a Rotary Ambassadorial Scholarship.
"When I realized the scholarship was designed for students who had ambitions abroad and passion for service, it clicked for me instantly," he said.
After submitting his application, he had to pass an interview process.
"My experiences at UC Merced definitely helped me understand Rotary's principles on an instinctual level, and ultimately I think that came across during the interview," Li said.
The scholarship will pay for his graduate studies
abroad. He's still deciding among Hong Kong University, University College London, or the University of Saint Andrews to earn a master's degree in management, marketing or international business. After that, Li believes his horizons are wide open.
"I know the experiences I will have abroad will be so diverse and different from anything I've experienced," Li said. "Whatever I do afterward, it will continue to drive my passion for excellence, service and diversity."
"UC Merced was a proving ground for me to identify my desires and to figure out who I am," Li said, clearly displaying the attitude that helped make him a Rotary Scholar. "Being able to explore myself and try things I didn't think were possible allowed me to be comfortable with change. Leaning into things that scare you is a good thing."