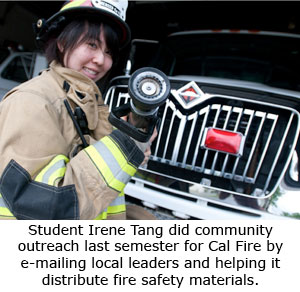 For some UC Merced researchers, California's San Joaquin Valley is the lab in which they can confront some of society's problems.
Like other universities, UC Merced has professors conducting studies across the world — including
researchon the snowpack in the Sierra Nevada, the complex genetic changes that create cancers and the effect global warming has on coral reef health.
But UC Merced also has professors who want to use their expertise to help uplift the surrounding community, part of UC Merced's mission.
Chancellor Steve Kangshowed his dedication to community-engaged scholarship last year when he formed a task force of faculty and community members and committed resources to the group.
The task force is organizing a conference on community-engaged scholarship that will be held on campus next year, task force member and psychology Professor
Jan Wallandersaid.
One of the task force's goals is to help interested faculty members find ways to incorporate the community and area into their research, Wallander said. While the group continues to build momentum, some faculty members have already incorporated the Valley into their research.
Anthropology Professor
Robin DeLuganand sociology Professor
Simón Wefferhave been interviewing community members in Planada and South Merced as part of a 10-year quality of life study that seeks to go beyond raw U.S. census figures to provide a better glimpse into the areas. They are specifically examining the role of community cohesion, efficacy and civic engagement to make for a healthy community. Colleagues in other parts of the Valley are conducting the same interviews so the results can be compared. 
Physiology Professor
Rudy Ortizwas joined by Weffer, and they are collaboratively researching adolescent obesity, a problem of global proportions that's prominent in the Valley. Work from their initial study has recently been published in Clinical Pediatrics and demonstrates that the prevalence of obesity and elevated blood pressure in the Valley is higher than the national averages. 
Several undergraduate students in Industrial & Organizational Psychology (PSY 170) last semester helped the Merced-based Alliance for Community Research and Development, which is run by Director Steve Roussos. The alliance is a private research firm established in 2005 that does research and development for small nonprofits that need access to information.
Roussos said he was impressed by the students' professionalism and dedication to their project - even working during spring break.
"It'd be great to work with UC Merced students again," Roussos said. "I'd jump at the opportunity to be selected again."
Diana Odom-Gunn, a lecturer who teaches the class, has been giving students community projects for three years as a way to combine classroom learning with hands-on experience. Students this past year worked for Cal Fire, the Merced Multicultural Arts Center, the city of Merced and many others.
"The project brings the entire course together," Odom-Gunn said. "We do the traditional stuff, and then we apply it in the world. Students learn, employers learn, and the community improves a little."