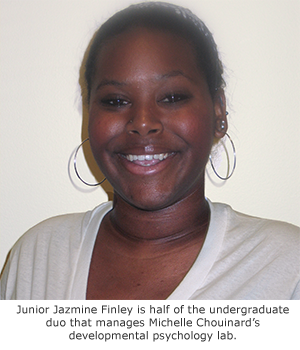 In
Michelle Chouinard'sdevelopmental
psychologylab, the focus is on children and the way language influences how they learn.
Three
graduate students, two managers and 11
researchassistants work together in the professor's lab to understand the keys that unlock and stimulate the learning processes in a child's brain.
Current research projects build on previous studies that center on the purpose and value of the seemingly infinite number of questions children ask, specifically regarding their
cognitivedevelopment.
Within the
Chouinard lab, the ongoing studies explore the learning benefits of the question-answer process and conversation, the positive impact of bilingualism, and the many ways language development is essential to overall social and intellectual development.
UC Merced is a research university designed to offer unique opportunities to
undergraduate studentsto participate in lab work that would be reserved for graduate students at other schools.
A founding member of the
Psychological Sciencesfaculty, Chouinard's belief is that if a student has a research interest, it's her job to find a place for her or him to explore that interest.
Jazmine Finley is one such undergraduate, and she has been taking full advantage of this gift of hands-on experience in the cognitive development lab for two years. In just over a year, the UC Merced junior has worked her way up from one of several research assistants to one of two lab managers.
It only took one class with Chouinard to pique the psychology major's interest. She is also a
writing minor, an assistant in the
Writing Program, a
McNair Scholar, and a member of the
Kappa Kappa Gammasorority.
"In her developmental psychology class, she talked about the cognitive development lab and the research they were doing. I approached her to see if I could be a part of her lab and she said yes," Finley said. "I started off as a research assistant, transcribing for one of her grad students."
Finley was offered the lab manager position the following year, and has been reveling in the experience since. She and fellow lab manager
Joycelyn Stephensoversee the group of research assistants, run the weekly lab meetings, conduct orientations for potential research assistants, and help Chouinard keep track of what each grad student is doing in a weekly report.
"This experience is preparing me for grad school. Helping Professor Chouinard is fun, and the work is definitely a benefit for when I conduct my own study and maybe have my own lab," Finley said.
She is delighted to have been asked to stay on as a lab manager for next year. While she has yet to decide the specifics of her future in the field of psychology, she said she is leaning toward working with children because of her experience in Chouinard's lab.
"Joycelyn and I have just stared working on research with a group of 30 4-year-olds. She graduates this year so one of the research assistants will be asked to move up to lab manager and assist with it," Finley said. "I really encourage undergraduates to use opportunities like this right now, while the student-to-professor ratio here is so small."