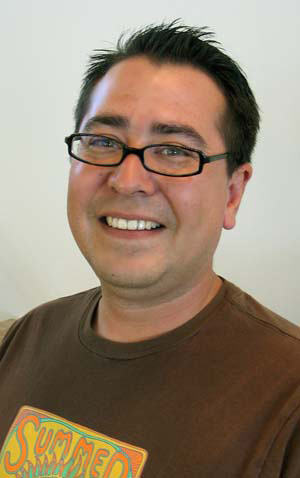 If you had asked Supervising Locksmith Frank Fimbrez 13 years ago what he'd be doing now, unlocking doors would not have been on the list of possibilities.
Fimbrez came to his career in a roundabout way. While working at a video store in Merced, the owner of a local lock company approached him. She thought he looked like someone who enjoyed a challenge, so she offered him a job. He tried it out for a week and loved it. He quit his other two jobs so he could be a locksmith full-time.
"The puzzle was what drew me in," Fimbrez said. "Every lock is a puzzle and a key is just a glorified screwdriver. Locksmithing is all based on numbers, so you have to like mathematics."
After working at Associates Lock and Safe for 10 years, Fimbrez felt the itch to leave Merced for the next challenge and a bigger paycheck. He planned to head off to a big city and work as a security engineer in a high-rise building. His one reservation as a single dad was that he wanted to stay close to his family in Merced. He has been here since he was 3 years old.
Then, Fimbrez found he didn't need to leave Merced to find his new challenge.
He landed an opportunity at UC Merced — keeping the university safe in terms of asset protection. For the past three years, he has been dedicated to securing all entrances and exits for all buildings, whether on campus or at the university's facilities in Atwater and downtown Merced.
Fimbrez said a lot of his job involves record keeping. He has to keep track of who has keys and access to which buildings. He uses a database to keep track of maps and locations of locks and continues to keep up on new technologies.
"The lock industry has changed drastically over the last seven years with keyless entries, but it is still the same old puzzle," Fimbrez said.
He said he has always liked the customer-service aspect of his job and enjoys working with the different departments on campus. Whether he is fixing or installing locks, tracking down keys, performing system maintenance or doing administrative paperwork, Fimbrez said people are the most important part of his job.
"It is a lot easier to do my job and be nice," Fimbrez said. "I have found that forming personal relationships with people I work with makes this job a lot easier."
Fimbrez is not only a talented locksmith, he is also an avid gardener. His grandmother was a big influence in his life and while his parents were working, she taught him how to cook and garden. He says he has always enjoyed taking care of his houseplants, but recently found the joys of outside gardening when he moved into a new home.
Fimbrez said one of his greatest accomplishments is his daughter, Miranda, who just turned 16 on July 4. She wants to go to art college when it's time to leave home.
"She is smart. She plays eight instruments and she loves art," Fimbrez said. "We have been planning for college since she was in the eighth grade. She is my inspiration."