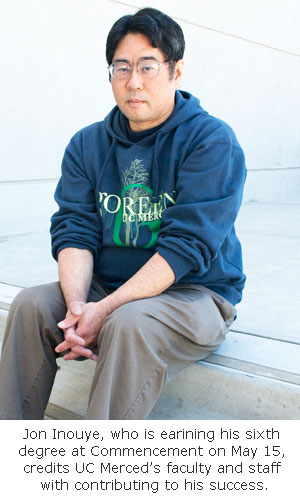 Like other children in his generation, Jon Inouye watched the United States' space and nuclear programs grow and gained a passion for space and science. And his trajectory since that time has seen plenty of stops along the way, like any thorough mission of exploration.



As a young man interested in science fiction, he became a published author and got a degree in film, intending first to write screenplays. Instead, his opportunities opened up in real-life science topics, especially computing. After two programming jobs, Inouye put his writing career on hold and earned bachelor's and master's degrees in computer science in night school.

 

"Around this time, a friend of mine pointed out that what really stimulated me in life seemed to involve mental growth," Inouye recalled. The friend thought he might belong in Mensa, and sure enough, Inouye qualified to join.



With newfound confidence, Inouye was further absorbed into computer science, eventually obtaining his Ph.D. He then enjoyed a 10-year career teaching computer science and information technology. But, he says, he was "intellectually restless."



"I sought an expansion of my knowledge of the physical world beyond the abstraction of computation for its own sake," Inouye said.



He earned a bachelor's in physics while continuing to teach, and then started looking for graduate opportunities.



"I decided that, despite my age, I would go all the way in this field," Inouye said. "To me, the pursuit of a higher degree in physics was a natural evolution in my intellectual and personal development."



After meeting Professor Jay Sharping on a visit to UC Merced, Inouye knew the relatively new campus was the right choice for him.



"There is no 'cliqueism' here," Inouye said. "It is not part of the culture. I think this tolerance of diversity may be one of the greatest strengths of the university."



That's especially meaningful for someone in his 50s who's working on his sixth degree and who has overcome those who have doubted his dreams. At UC Merced, Inouye needed only his innate intellectual drive to fit in and succeed. And as he finishes his
master's in physicsand proceeds to a planned Ph.D., that's all that matters.



Throughout his time at the university, he continued to have remarkable relationships with professors. He credits several faculty and staff members with contributing to his success.



"I am extremely grateful to my graduate advisor,
Lin Tian, and her group in quantum computing," Inouye said. "Lin is at the cutting edge of theoretical physics."



He also mentions physics professors
Raymond Chiao,
Jian-Qiao Sun,
Sayantani Ghoshand
Linda Hirst, as well as natural sciences student advocate Carrie King, whom he calls an "amazing advisor on student-faculty relations and how best to navigate the graduate arena."



Inouye says he'll remember three main things about UC Merced: the pastoral setting, the high-tech campus with its world-class researchers, and the overarching friendliness and diversity.