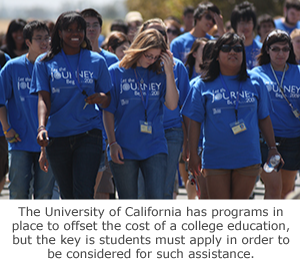 When it comes planning for life after high school, students have a lot of choices to make. Whether to they can afford college shouldn't be one of them.
Concern over expenses is the worst possible reason not to attend a UC, said Kevin Browne, assistant vice chancellor for
enrollment management. If a student meets UC admission requirements, he or she deserves to be here, and
we can help. We have been able to offer competitive gift-aid packages to almost 75 percent of our enrolled students (for 2008-09).
The recent vote by the University of California Regents to raise student fees beginning spring 2010 has some prospective students and their parents concerned and confused. The Regents voted to increase fees for students to off-set diminished funding from the state.
However, student aid programs already in place will alleviate much of the burden for eligible families.
About 60 percent of our current students have already had their gift aid awards increased to cover next semester's higher fees, Browne said. Those students include anyone eligible for UC or Cal-Grants, and those who qualify for the UC system's
Blue and Gold Opportunity Plan.
The plan, initiated by the
Office of the President and approved by Regents earlier this year, waives UC fees for students whose family income is $60,000 or less per year. Beginning fall 2010 - when fees will increase again - the income threshold for the plan increases to $70,000 per year.
By filling out the
Free Application for Financial Student Aid(FAFSA), prospective new UC Merced students will be considered for a variety of
financial aidoptions, including institutional
scholarships, grants, loans and campus-based work study. There is no minimum grade-point average required to qualify for gift aid.
Institutional scholarships are provided through the generosity of UC alumni; friends of UC Merced; corporations, businesses, professional associations; and the university itself.
Scholarships and grants tend to be students first choice when it comes to helping with college expenses, because they don't represent debt that has to be repaid.
Loans, which need to be repaid, can fill any gaps between a student's gift-aid package and anticipated educational costs.
Students can complete and submit the FAFSA online beginning Jan. 1, 2010.
It's recommended that all prospective students apply for financial aid, regardless of their family's financial situation.
The bottom line is that you can't get awarded if you don't apply, Browne said.