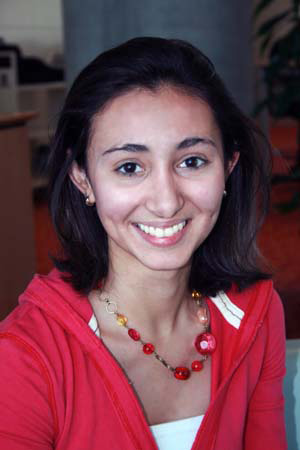 Thomas Jefferson was 33 before he wrote the Constitution of the United States. UC Merced's Amanda Camelo has already had some experience at writing
constitutions- last year, as a freshman, she helped draft the founding rules for the
student governmentfor UC's newest campus.
That's one of the advantages of attending a brand-new university, said Camelo, an
economicsmajor.
"This wouldn't have happened at any other school," she said.
Camelo has had other opportunities because she chose UC Merced, as well. With a 3.9 GPA, she has worked as a
researchassistant for professors - something many students don't get to do before graduate school.
Her experience helped earn her a highly competitive slot at a recent Harvard public affairs conference, "Passion to Serve." Camelo, a sophomore, exchanged ideas with 49 other students chosen from prestigious universities such as Yale, UC Berkeley and Cornell.
She has also been recognized with a Founding Student of Excellence Award and as a Bank of America Tutor for Excellence. She is an advisor to UC Merced's student body president, a position she says suits her well.
"I have no plans to go into politics," she said. "Running for office isn't something I would like to do."
Instead, she plans a career in international relations.
Camelo hails from Brazil and speaks fluent Portuguese. While in high school, she attended a different school each year. She was home in Brazil as a freshman, then spent a year in Texas as an exchange student. Her junior year found her back in Brazil, and then, when her family moved to California, she graduated from high school just south of San Francisco in Burlingame.
In her spare time, Camelo loves to travel, hang out with friends and family and watch movies. That's scarce, though, because of her heavy involvement with campus activities. She's the vice president of marketing for the
Business Societyand belongs to a Christian fellowship, Chi Alpha.
Her advice for other students?
"Take advantage of all the opportunities you have, and be on the lookout. There is always an opportunity for you to get involved or do something great out there!"