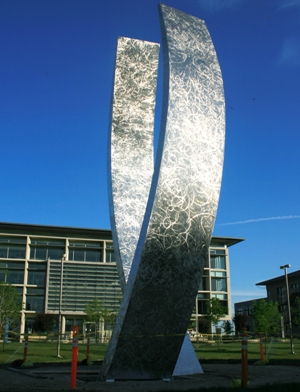 Neither high temperatures or a flat tire could stop UC
Merced's tallest sculpture from arriving on campus yesterday.





"Beginnings,"inspired by UC Merced's former Acting Chancellor
Rod Park in 2006 and conceived by noted American sculptor
Aris Demetrios,
was successfully installed in the university's central courtyard
April 21.



The sculpture, a gift to the university by Park and his wife,
Cathy, the Bob and Marie Gallo family and John, Joseph and Fred T.
Franzia of Bronco Winery, consists of two gently curving, vertical
arms, each about 40 feet high. Demetrios also made significant
contributions to the project.



"These two soaring, enfolding arcs embody our vision of a
university that both embraces its students and provides a growing
seed whose bounty will benefit all in this valley and beyond," the
Parks said.