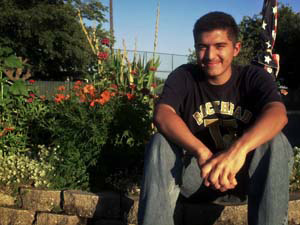 Chris Ayala remembers playing golf with his father on what is now the UC Merced campus.
"I look out and can sometimes tell where a hole used to be," he said.
This fall, Ayala will "tee off" as one of UC Merced's incoming freshmen. But just because the putting green and golf carts have been replaced with libraries and dormitories doesn't mean that Ayala can't squeeze in a few golf drives between classes.
"I've been eyeing that field near the dorms. I just hope that I don't break anything," he said.
In addition to helping develop a golf team or club and volunteering to help start the campus radio station, Ayala plans to study bioengineering and pursue a career in gene therapy.
"I really liked science, technology and math. That's one of the main focus points of UC Merced and it's what attracted me to it," he said.
Besides the curriculum, Ayala chose to attend UC Merced because of its location. A Dos Palos native, he graduated from local high school there in June and wanted to stay close to his family who live on the west side of Merced County.
"If I ever get in trouble or need something, they're just an hour away as opposed to several hours," he said.
And with three friends from Dos Palos High as his classmates, he'll have a ready-made group of friends to socialize and carpool back home with.
He's also looking forward to the opportunities that come with attending UC Merced in its early years.
"You can still do whatever you want in terms of clubs and policy, whereas in other schools it might be a little hard because they already have their own plans," he said. "If I wanted to start a golf club it wouldn't be a problem."
As Ayala describes it, he inaugural class may have had an advantage and privilege of being first, but there are still plenty of opportunities to get in and build a customized college experience.
In fact, "coming in second" in this case is a pretty smart move.