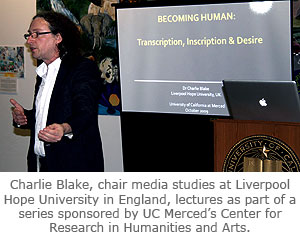 Most humanities scholars' research involves reading a book, article or poem, analyzing it and relaying the conclusions. Basically solitary, it leaves little time for talk about what they're discovering.
"We don't go into labs," UC Merced Professor
Susan Amussensaid. "(The research) is great, but it's easy to feel isolated."
In an effort to bridge that gap and create more conversations about research, the
School of Social Sciences, Humanities and Artshas established the
Center for Research in the Humanities and Arts. The center was formed in fall 2008 and continues to expand its activities, with several
eventsplanned this year.
The center, one of many through out the University of California system, serves as a place where students and faculty can have open discussions about their interests and expand their knowledge into other fields. It represents the university's commitment to collaboration.
Amussen, a British history professor who joined UC Merced in July 2008, serves as the center's director. The center is part of the University of California Humanities Network, which incorporates the UC Society of Fellows in the Humanities, the
University of California Humanities Research Instituteand the UC Consortium of Humanities Centers.
The center has helped faculty members pay to fly to conferences, libraries and other places for research. In return, the person must give a brown bag lunch lecture on what was learned.
"It's really about getting a chance to talk to each other," Amussen said. "We all come here and hunker down."
Just by having students and faculty from different disciplines meet to talk about the world creates new connections, she said.
Hans Björnsson, who served as SSHA's dean when the center was formed, said it helps fulfill one of UC Merced's missions - to work across academic borders.
"It's very interdisciplinary," Björnsson said. "(The center) goes beyond humanities itself."
The humanities force people to think critically and to debate ideas, which benefit the academic institution and society, he said. "A university without humanities is indeed a very poor university," he noted.
Amussen agreed, saying some problems - such as water usage - can't just be solved by science.
"How do you change culture?" she asked. "You can't just design a better widget."
The center is sponsoring a series of talks called "Writing the Post-Human," which looks at the idea of self in a digital culture made up of smart phones, computers and social networking Web sites.
"People are no longer alone," she said. "For many of us, we're always connected on some level."
There'll be two more speakers in the series this spring.
The center is also holding a conference later this year about Gaspar Pérez de Villagrá, who wrote the first epic poem about the United States. This year is the 400th anniversary of the poem's publication. In the future, the center will invite well-known people once a year to give a speech and talk with the faculty.
Other events, Amussen said, will be designed for faculty and the greater Merced community. Humanities, she noted, address issues of interest to society, such as culture and the meaning of life.
"They're questions you ask whether you're in school or not," she said.