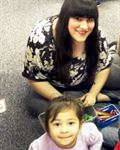 Born in Nebraska to a Persian mother and a father whose military duty took the family to Europe for much of her childhood, Kandice Soraya Grote grew up speaking English, German and Farsi.
Upon returning to the United States, her parents worried she would have trouble speaking and understanding English when it was time for her to attend school. So when Grote was about 6 years old, they stopped talking to her in other languages. Now, at 28, she still speaks some Farsi, but her ability to speak German is gone.
Grote understands her parents did what they thought was best for her at the time.
Today, as a UC Merced doctoral candidate researching the cognitive benefits of bilingualism in children, she still encounters that mindset. 
"That mentality has not changed in 25 years," said Grote, a researcher in the cognitive development lab of Professor Michelle M. Chouinard. "Many non-native-speaking parents believe that children will pick up English faster if they stop speaking to them in their native language. It's a horrible myth."
Grote's personal experience, combined with a love of working with children, led her to this field. Her research interests are in the realms of bilingualism, bilingual education, early cognitive development and cross-cultural differences.
"People forget how much you can learn from children," Grote said. "They force you to think about the world in a different way."
Research done in Chouinard's lab examines how children learn and the role language plays in the learning process. Grote is studying the nonlinguistic cognitive benefits of speaking more than one language.
When a person speaks two languages, Grote explained, he or she is able to inhibit one language while using the other. Similarly, when those individuals perform problem-solving tasks, they use the same mechanism to inhibit and filter out distracting information unrelated to the task at hand. Studies also indicate that bilingualism can help improve memory, as well as enhance creativity and imagination.
"Understanding how early these benefits develop may provide evidence for supporting non-native English speakers' first language and introducing a second language at an earlier age, rather than at the high school level," Grote said.
She cites Canada's dual immersion education programs as an example of successful bilingual education models. She hopes her research can help change negative attitudes about bilingual education in California and beyond.
"We can learn a lot from people whose first language is not English," said Grote, who attended Fresno's Edison High School and earned her undergraduate degree in psychology from UC Davis in 2005. "My belief is that non-native English speakers are the solution to successful bilingual education, not the problem. They can teach us and we can teach them, together in a dual-language learning environment."
Getting to work with a diverse population is one of the reasons Grote chose UC Merced for her doctoral degree, along with being part of the campus' first group of graduate students in the School of Social Sciences, Humanities and Arts.
Since joining UC Merced in 2006, Grote has worked with local Head Start and preschool programs in Merced, Atwater, Delhi, Livingston and Los Banos, and has given presentations related to her research at several conferences. Grote expects to earn her Ph.D. in Psychological Sciences this year.
Her long-range plan is to open a preschool or learning center that emphasizes diversity and language. Meanwhile, she relishes the challenge of "finding ways to take the research that we're doing and apply it to the communities we live in."