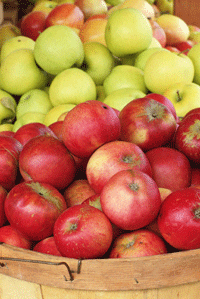 Students, faculty and staff at UC Merced will be treated daily to nutritious, tempting, restaurant-quality choices at the Valley Dining Commons, the main dining center on campus. On any given day, they can choose the;crunch cereal bar with assorted toppings, sandwiches on freshly baked bread, or a salad bar accompanied by an occasional exhibition style salad prepared with a specific diner's choices. Specialty food stations include Italian, Mexican, Asian and vegetarian. Customers will also find favorites like pizza, burgers, fries and wings.
Diners will see items here that they just can't find anywhere else, explains Tom Welton, director of Dining and Retail Services.
The Valley Dining Commons will feature;Grab & Go items for students to take to their rooms. Another quick alternative will be the library coffee kiosk, where anyone can take a break from their work to purchase a latte and a muffin, or an artisan sandwich and a fresh salad.
To determine the campus opening menus, Welton used student demographics as a guide. A student food committee will meet monthly and provide feedback to help determine menu items.
Students will manage their individual eating using a convenient campus debit card. Dining staffers also plan a frequent-user program where diners are rewarded with a free entrée or beverage after multiple purchases.
The dining staff aims to provide menu choices that keep diners coming back for more. One special that will draw attention will be the;pick-me-up served just after 2:00 p.m., for those low-energy moments between lunch and dinner.
Welton and his team bring extensive culinary experience to the production of an ambitious campus menu. Their philosophy incorporates batch cooking to ensure freshness. Adding to that goal, a computerized inventory system will be monitored daily and weekly to replenish stock.
We don't warehouse food, Welton said.;We order what we need so items are fresh.
Welton came to UC Merced from California State University, Stanislaus. He is proud of his vision for dining at UC Merced and looks forward to its success. What will that mean?
Simple, Welton says.;A happy diner.