Virginia Adan-Lifante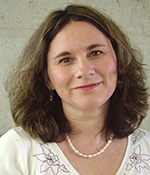 Senior Lecturer with Security of Employment
School of Social Sciences, Humanities and Arts
T: 209-228-2903
Language learning
Spanish and Latin American language
Literature and culture
Virginia Adan-Lifante is an expert on the acquisition of foreign languages, including the social and cultural discomforts that are typically part of the process. A native of Spain, she learned English as an adult and is personally familiar with the barriers that impede language assimilation, especially among adults. She is also an informational resource on a wide range of issues related to Spanish and Latin American literature and culture, with special interest in women's issues and Puerto Rican culture.
In today's multicultural environment, achieving fluency in a second language is increasingly necessary for professional and/or personal development. California, with its steady influx of non-English-speaking immigrants, provides a prime example. Success in gaining employment and fully participating in social and civic activities depends heavily on the ability to master English. The same is true for Americans who settle abroad or who seek to understand foreign cultures through language study.
Adan-Lifante holds an undergraduate degree from the Universidad de Sevilla (Spain) in Filologia Hispanica and a Ph.D. in Hispanic Language and Literature from UC Santa Barbara. Prior to joining the faculty of UC Merced in 2004, she was an assistant professor at Texas A&M University.