Roger C. Bales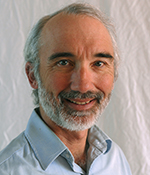 Professor
School of Engineering
T: 209-228-4348
Lorena Anderson
Senior Public Information Representative
T: 209-228-4406
M: 209-201-6255
Climate change and water resources
Water from the Sierra Nevada
Causes of climate change
Most of California's water comes from the vast wilderness areas of the Sierra Nevada. Yet until now, the state has lacked knowledge about how water works in this impressive and important mountain range. As we face the potential consequences of global climate change, it is more crucial than ever that we understand our water supply as we make the policy decisions affecting our climate, our water and our air.
Roger Bales is a leading researcher in the impacts of climate change on water resources. His progressive studies on the snowpack in the Sierra Nevada are beginning to fill in the picture on California`s water, and more detailed information will likely come in the future through the planned Sierra Nevada Hydrologic Observatory.
"These topics have now moved beyond environmental concern to the forefront of the economic sustainability of the region," Bales said. He is committed to sharing scientific knowledge with the public and with policymakers so that future decisions can be guided by the best possible information.