Marcelo Kallmann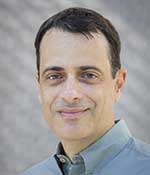 Associate Professor
School of Engineering
T: 209-228-4168
Lorena Anderson
Senior Public Information Representative
T: 209-228-4406
M: 209-201-6255
Artificial intelligence and robotics
Computer animation
Exponential growth in computing power and graphics technology has led to unimagined breakthroughs in computer simulation, in everything from industrial design to gaming. Yet the most promising field of all may be the simulation of human intelligence and behavior. Artificial intelligence and robotics, once little more than science fiction, are making enormous gains as engineers seek to achieve human-like intelligence in computer-controlled machines.
Marcelo Kallmann can address the technical and programming issues that make the pursuit of simulated human intelligence promising, though the goal is still elusive. This includes the development of computer algorithms that control robotic motion for specific tasks and the human-computer interfaces needed to teach, demonstrate and program intelligent systems. He can also comment extensively on trends in computer graphics and animation, including such issues as "virtual humans" and their role in training and demonstration applications or computer and video games.
Kallmann joined the faculty of UC Merced in 2005. He was previously affiliated with the Institute for Creative Technologies at the University of Southern California, where he did developmental work on autonomous virtual humans. He holds a B.S. from the State University of Rio de Janeiro, an M.S. from the Federal University of Rio de Janeiro, and a Ph. D. from the Swiss Federal Institute of Technology.