Lara M. Kueppers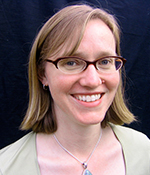 Assistant Professor
School of Natural Sciences
T: 209-228-4054
Lorena Anderson
Senior Public Information Representative
T: 209-228-4406
M: 209-201-6255
Climate change and ecology
Carbon cycling and climate change
Regional climate models
Every second, plants process carbon dioxide through photosynthesis. The ecosystems those plants live in may either slow down or speed up the now widely-accepted phenomenon of global climate change through their carbon dioxide processing.
Lara Kueppers, a professor in the School of Natural Sciences at UC Merced, studies the interactive relationships between global climate change and ecosystems through carbon cycling, and she skillfully explains the basic questions addressed in her work.
Warmer temperatures may speed up photosynthesis, but resulting drier conditions may slow it down. The difference between those changes may result in a net loss or gain in the rate of carbon dioxide processing, making an area either a sink or a source of carbon. Either way, that system could affect the rate of global warming.
"We have some understanding of this at a small scale," Kueppers said. "Systems-level study, though, is still a fairly new endeavor."
Kueppers already has multiple research interests to pursue at UC Merced.
"I'm looking forward to finding partners in the Valley," she said.
By that, she means forming working relationships with landowners so she can study how land use changes like agriculture and irrigation affect the regional climate. Regional climate models can show more specifics than big, global climate models, and then be used in concert with the larger models to understand the big picture more accurately.