A $500,000 donation from the John Elia Education Endowment Trust will aid undergraduate and graduate students at UC Merced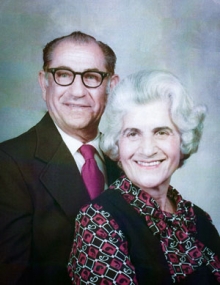 Throughout his 51-year teaching career, John Elia made a profound impact on the lives of more than 10,000 students. Now, his legacy will continue through an endowment created by his family.
A generous gift from the John Elia Education Endowment Trust will fund scholarships, fellowships and programs at the University of California, Merced.
"Mr. Elia is cherished as a vibrant educator and civic leader in the San Joaquin Valley," Chancellor Dorothy Leland said. "We appreciate his family's desire to further his commitment to education by expanding the horizons for countless students at UC Merced through this wonderful endowment."
In 1971 and 1983, Elia was commended by the California Legislature for his record of service in the education field and for his many contributions to the community.
Elia had a strong commitment to educating youth and serving the community. He taught woodshop at Longfellow Junior High School and Fresno High School, both of which he attended as a youth. He was a substitute teacher at other local high schools until his retirement in 1983.
He also taught in the Fresno County Apprentice Painter's program at Fresno City College and served for four years as the director of industrial arts exhibits for the Fresno County Fair.
He served as a Boy Scout troop leader and was active in the Las Palmas Masonic Lodge. He was honored as Teacher of the Year by the Lions Club in 1965.
His wife, Victoria, was a homemaker and a part-time salesperson at Roos Atkins Department Store and shared his passion for higher education.
"The contribution to UC Merced is our family's way of saying thank you for the opportunities afforded us by this Valley's community," said Kenneth and Richard Elia, his sons. "We chose UC Merced because it gave us an opportunity to participate in a new UC in the valley."
A portion of the money will offer scholarships to students who are veterans or undocumented, and some will provide fellowships for graduate students. Additionally, funds will provide programming and services for undocumented students.
Elia, who is thought to be the first Armenian to teach in Fresno, taught a wide diversity of students and had a special affinity toward immigrant struggles.
Elia received a bachelor's degree from Fresno State University and pursued a master's degree from Stanford University. He passed away in 1987 at the age of 81.