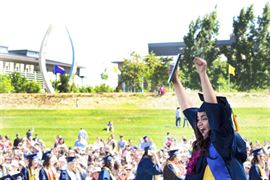 At two weekend ceremonies, UC Merced conferred degrees on more than 1,000 commencement candidates who said goodbye to the campus they called home for the past four or more years of their lives.
Before receiving their diplomas, members of the Class of 2014 – from as far away as Russia and China – received words of inspiration and determination from handpicked keynote speakers.
On Saturday morning, CEO of Enduring Hydro LLC and former U.S. Undersecretary for Energy described when she was diagnosed with Hodgkin's disease at 22. From the valuable life-lessons she learned, she urged the graduates of the schools of Natural Sciences and Engineering to remain devoted to kindness, optimism and community.
Johnson, fighting off tears, asked the graduates to think about the legacy they will build for themselves and the university.
"I think the answer to that question will depend less on your skills and the knowledge even though they are an important part of what you bring to the table," said the third-generation engineer to a crowd of about 500 graduates and their families. "I think what I've learned over the 40 years since I've sat in your seat is that it's going to depend on attitude as much as anything else.
"As you prepare today to leave this university you call home, apply a positive attitude and what you have learned to make someone else's life better. If you do, you'll find success. You'll find opportunity and you'll leave the kind of legacy your children will learn from."
On Sunday, about 600 candidates from the School of Social Sciences, Humanities and Arts heard a different yet parallel theme from Merced County Superior Court Judge Paul C. Lo.
Lo spent part of his childhood in a refugee camp in Thailand, and then his parents gave up everything so he and his siblings could come to America and have a better life. While he struggled to learn a new language and adjust to his new country, he never lost hope.
In fact, Lo thrived and eventually received his bachelor's, attended law school and in April he became the first Hmong-American judge in U.S. history.
"However gloomy the situations you may face in the years ahead, keep getting up each morning with a smile," Lo said. "The sun will rise on you again just like it did for me and the Hmong people."
Lo went on to credit many who helped him overcome challenges, including teachers, friends, mentors and his parents.
"We are only beneficiaries of those who came before us, who cared about our success and who sacrificed much for us," he said. "Wherever you end up, remember that because someone has helped you achieve the American dream, it is only right and imperative that you pay forward to keep the American dream alive for future generations."
UC Merced Chancellor Dorothy Leland summed up the weekend's ceremonies in her salutation.
"Go forth and spread the Bobcat spirit you helped create – and now embody – as proud graduates of the first new research university of the 21st century," Leland said. "I salute you – the Class of 2014 – and wish you the very best as you begin the next phase of your life's journey. It has been a privilege to have you here."