The UC Merced
Cheerand Dance squads traveled to Anaheim in February to compete in the 2010 USA All Star Spirit, Dance and College Nationals. Although it was the
second competition for the Cheer team, it was the first opportunity the Bobcat Dance Team had to compete at a collegiate level.



"We competed in the Division II/III Open Dance Division, and did an excellent job," said community volunteer Feliza Sanchez, who coaches the two-year-old dance team. "The team committed countless number of hours of practice this year to learning choreography and perfecting their routine. It was a little intimidating watching Division I schools practice backstage, but we held our own. It was a great experience - and we know what to look out for next season."



Both teams are made up of women with widely diverse skill levels and backgrounds. This alone can present tough challenges, but they refuse to let that hold them back.



"There are all different levels of experience, so we tried to showcase a lot of solos, and highlight our strengths," explained Jolie McClane, vice president of the dance team and senior
bioengineeringmajor. "We made it to finals, and I think that was really good for our first year."



Cheerleading coach and UC Merced staff member Lisa Perry has seen a tremendous amount of growth since the cheer team's first competition.



"Last year we had about nine girls, and it was really hard to compete," Perry said, referring to the fact that they had been up against schools with large, established teams of 20 to 25 members. "We were really limited with what we could do. This year we were a team of 15 so we were able to do collegiate-level stunts."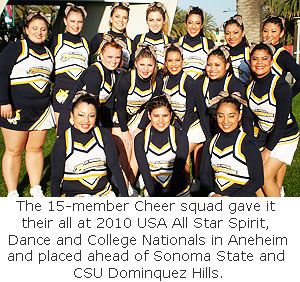 "We placed ahead of Sonoma State and CSU Dominguez Hills," said Cheer president Darlene Escobedo. "As a team I feel we progressed a lot, especially towards the end when we were getting close to competition," Escobedo said of the road to nationals. "We added three-hour practices every Saturday when we returned from winter break. That made a big difference. Everything went well; we came together as a team, learned from everyone and became close."



The teams may still be finding their feet, but they are light years ahead of where they thought they would be this early on, and with a heavy influx of freshmen to both groups, growth and evolution will continue to be fast and strong.



"We have a very young team," Sanchez said. "The bobcat girls will continue to grow with their program and look forward to many more years to build a highly competitive program."



Escobedo is a senior with a double major in
managementand
psychologyand a minor in
cognitive science, and as one of the original founding cheerleaders four years ago she remembers their original goals. "When we were a club we thought it would take five to 10 years before we went to nationals. We thought we'd just cheer for school events."



The UC Merced pioneering spirit helped the squad achieve that goal early.



"We want to go to this competition every year," Perry said about both teams. "Long-term, we're hoping to keep growing and to become co-ed."



Current or incoming students interested in trying out for the Cheer or Dance squads can contact
ucmcheer@ucmerced.eduor
jmclane@ucmerced.edu.