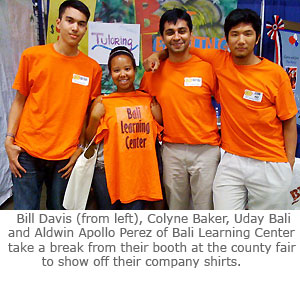 Uday Bali has been among the campus' biggest fans since transferring here as an undergraduate in 2005 when the university opened. He's served as
student body president, graduated in 2008 with highest honors and a bachelor's degree in
environmental engineering, and has returned here for
graduate school, working in
Professor Roland Winston'ssolar energy
lab.
Now add "entrepreneur" to his list of accolades.
Three months ago, Bali opened his own tutoring company. Bali Learning Center offers individual and group tutoring in all subjects for students from kindergarten through high school. The center will begin SAT exam preparation classes in August.
Why tutoring? Why Merced? Why now? To fill a need.
He visited local schools as
ASUCM presidentin hopes of getting teachers to promote UC Merced to their students as a world-class university in their back yard. Unfortunately, he found many teachers feared that their students lacked the necessary skills to succeed at a UC.
"UC Merced was put here in the San Joaquin Valley to help increase the college-going culture of the region, but we need
auxiliary servicesto make that vision a reality," he said.
That's where Bali Learning Center comes in.
"My goal is that students who participate in our program will succeed in reaching their educational goals," Bali said. "Some aspire to attend community college; others have their sights set on the California State University system; and others expect to attend a UC or private college. Whatever the goal, I know BLC can get them there."
Bali has created a business model that differs greatly from other tutoring centers. Starting at $9.99 an hour, his rates are one-fourth of what's considered standard in this area. Considering that tutors need to meet with clients three times a week for maximum results, the savings is considerable.
"As a private tutor, I charged $35 to $45 per hour, which was great for me and my 10 clients," he said. "But the point of the center is to touch as many lives as possible. Every student deserves a chance to succeed."
That philosophy has garnered a lot of support from locals. One such person is Bill Andersen, assistant director of the Alliance Small Business Development Center, which is part of the
UC Merced SBDC Regional Network. Another important contact has been Lee Anderson, superintendent of Merced County schools
According to Bali, Andersen helped him find affordable space and network with potential clients. Anderson has provided necessary introductions and information on what services are most needed locally.
Another reason for Bali's smooth start is his close ties to UC Merced. When looking for bright, talented people to help him get the tutoring center off the ground, Bali had to look no further than his own Bobcat peers.
Preet Sandhu, a
seniormajoring in
psychologywho has worked in the lab of
Michelle Chouinard, trains tutors and serves as liaison between the center and its clients.  She and Colyne Baker also tutor elementary-age students. Aldwin Apollo Perez, who graduated from UC Merced in May with a
bachelor's degreein
biological sciences, tutors biology. Sophomores Bill Davis and Joe Ng are volunteering as interns in marketing and administration.
As for Bali, he will teach the center's first SAT preparation course on Aug. 1. Boasting perfect scores on the SAT Math II, Physics and Chemistry exams, Bali is excited to share his test-taking techniques with students.
"Academic success comes from a combination of knowledge and confidence; I hope our program instills both in our clients," he said.
Bali Learning Center operates out of the First Baptist Church Campus, 500 Buena Vista Dr., Merced. For information:
www.balilearning.comor 209-201-6850.