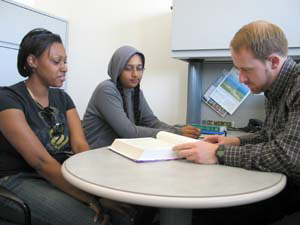 If the question is student success, the Student and Advising and Learning Center (SALC) has the answer - an answer that fits each student individually.
From tutoring in various subjects and preparing for finals, to study skills and time management seminars, the center offers a broad selection of resources and is developing more.
James Barnes, coordinator of orientation and learning assistance, said his goal is to help students get to UC Merced, stay here and succeed.
The 50 tutors employed by the SALC, including several who work through UC Merced's writing program, keep flexible schedules that extend into the early evenings and even include some weekends. Barnes said the tutoring program has grown since last year and will continue to do so. Calculus and organic chemistry tutors have been in the highest demand, but there's help available in any subject taught at UC Merced.
Barnes organizes a variety of study-skills workshops in which students can learn more about managing time, reading strategies (including speed reading and better comprehension) and study strategies.
As a peer instructor in college at University of Northern Iowa, Barnes worked with student athletes and realized that they mostly needed help learning to learn.
College is so different from high school, he said. In college, students are asked to think more critically and to digest a lot more information. Studying the night before a test might have worked in high school, he said, but it rarely does at college.
However, he said, with an array of study strategies, a student can more quickly recover from mistakes and figure out which study methods work best for them. Maybe one student is a visual learner, while another gets more out of listening to lectures. The SALC's resources can help students figure that out and teach them to learn on a college level.
Barnes presents this helpful information in residence halls and other locations around campus, and he can even work with students individually if they contact him to set up an appointment at jbarnes@ucmerced.edu.
However, you don't need an appointment for tutoring, and you can find the schedule of available tutors - along with a lot of other resources and information - on the SALC's Web site at http://learning.ucmerced.edu.