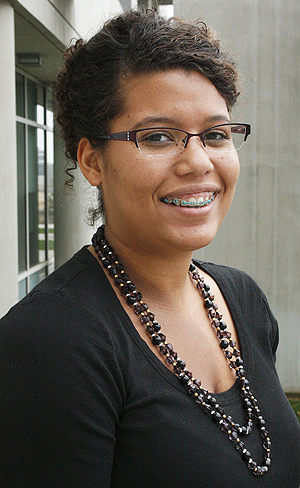 Ann-Alecia Brewer was a high school sophomore when she decided what career path she wanted to take: working with students.
While the California City native did well academically and had always planned to attend college, she knew other classmates who struggled. A stint as a teacher's assistant in her school's counseling office opened her eyes how she could help guide students who were trying to figure out their lot in life.
As an undergraduate at UC Merced, Brewer is doing just that. Every week since the fall semester began, the 19-year-old


cognitive science

major heads to John Muir Elementary School in Merced to teach math, language arts and geography to second- and third-grade students. She spends about three hours in class helping students with their assignments and comes up with ways to keep pupils engaged, involved and enthusiastic about school.
Brewer is one of several dozen students participating in UC Merced's


Science and Math Initiative (SMI)

. The UC-wide program's goal is to prepare and support students who are interested in becoming K-12 math or science teachers. Participating students are required to take a sequence of courses and work inside a classroom. At the end of the semester, SMI students are required to present a lesson plan.
SMI director Krista Venecia said the program is designed to help students become good teachers by giving them hands-on experience as they complete their undergraduate degree requirements. Moreover, Venecia added, "it gives them the idea of what it's really like to be a teacher."
The lower-division SMI courses, which are offered through the


School of Natural Sciences

, cover some of the basics of teaching, including how to create a lesson plan. This semester, the program offered its first upper-division course, which examined topics such as classroom diversity,
mainstreaming, bilingual education, multiculturalism and the cultural and linguistic challenges of teaching English language learning students.
Since its inception at UC Merced in 2006, the number of participating students and schools has grown. Twenty-two students enrolled in the first SMI course offered in spring 2006. This semester, the ballooned to 86. The students are assigned to elementary, junior high and high school campuses in Merced and Stanislaus counties.
Students who complete 30 hours of fieldwork are eligible to receive a small scholarship. Money aside, the program's real benefit, according to Brewer, is that it helps students who are considering a teaching career determine if that is the right choice for them.
Brewer said the best thing about the program is the time she spends at her assigned school and recalled one of her best days. She was trying to explain a basic math concept to an 8-year-old boy.
"He was getting so frustrated because he couldn't figure it out," she said.
She patiently kept going over the information with him until he finally understood. And the look on his face when he "got it" was priceless, she said.
"I'm helping the students get the education they will need to be successful," Brewer said, "and helping them be the best they can be."