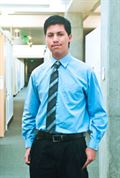 Fidel Cervantes found the right fit for his university education 25 miles down the road from home.
A native of Delhi in north Merced County, Cervantes selected UC Merced when he made his college choice two years ago.
"It was a logical option," Cervantes said. "I would get a UC education while saving on room and board."
For Cervantes, however, staying close to home is about more than economics. The UC Merced political science major is using his community as a learning laboratory for his field of study.
Just two years out of high school, Cervantes serves on Delhi Unified School District's school board. He was 19 when the district appointed him to fill a vacancy, and he plans to run for a seat and serve a five-year term. 
Cervantes has a passion for government service. He is not planning a career in politics, but nor does he rule one out.  
"I have a long future ahead of me," said Cervantes, now 20. "I leave (a political career) open as an option. We'll see."
Cervantes, who is balancing multiple commitments, just completed his sophomore year.
In February, he earned a spot at the John F. Kennedy School of Government's Public Policy and Leadership Conference at Harvard University. He also serves on Merced County's Delhi Municipal Advisory Council. The council advises the county board of supervisors on issues in the unincorporated town.
Both his parents emigrated from Mexico. Cervantes has a brother who attends middle school in Delhi.
Many local people are immigrants who speak English as a second language, Cervantes said, and many families cope with limited incomes. But that often encourages people to get involved and help others, he said.
"This community does experience poverty," Cervantes said. "But, if anything, I think that prompts a lot of people to get involved.
"What I like about local government is the independent spirit. People campaign on their own merits and aren't bound by partisan ideology."
Cervantes plans to apply for a spot in the Capitol Fellows Program at California State University, Sacramento, as he approaches graduation. The program gives recent college grads an in-depth look at California's state government.
Cervantes knows he can count on a recommendation from Robin DeLugan, the UC Merced anthropology professor who recommended him for the Harvard program. He also wants to organize a candidates forum "to raise a sense of political awareness among college students" leading up to this year's November elections.
"(Cervantes) definitely sets the example for what young adult leadership can accomplish," DeLugan said. "Students like him show the special role we have in supporting young leaders — not only for the state and nation, but right here in the Central Valley."