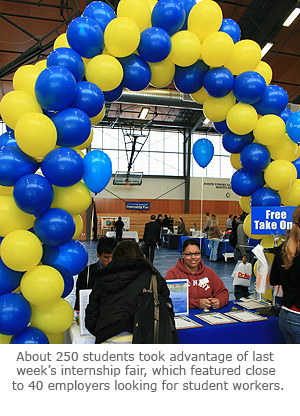 UC Merced's annual internship fair was a hit last week - both with students and with prospective employers. Kelly Patterson, assistant director of
career services, said that about 250 students registered for the fair, giving them access to internships offered by almost 40 companies.
Among the companies in attendance was Corn Products International. The world's largest corn-refining and ingredient company attended the fair in hopes of finding an
engineeringintern to work full-time at its Stockton plant over the summer. This is the first time the company has sought student workers, process engineer Chris Tzimenatos said.
Usually, we recruit at the corporate level, he said. However, this position doesn't require tons of experience. What we really need is someone with basic engineering skills who interacts well with others.
Tzimenatos said the company is in the process of establishing relationships with colleges and universities throughout the Central Valley, but he indicated he liked what he had seen of UC Merced thus far.
For a young program, he said, you have some really good students.
Hoping to fit within Tzimenatos definition of really good students were Tina Li and Chi Lau, both sophomores from the San Francisco area.
I really liked how the company representatives explained the position and the experience it could provide, said Li, a
mechanical engineeringmajor.
Lau, a
bioengineeringmajor who has known Li since grade school, said she was equally impressed with the company.
I think the internship they described would offer a rewarding experience for any engineer, she said. And the fact that the plant is in Stockton means that I could stay in the Valley for the summer.
Patterson, who was among the organizers of the internship fair, said she was pleased with both the interest from prospective employers and how serious registered students were about making a good impression.
It's great to see so many of our students dressed professionally with resumes in hand, she said. They look sharp, and I think they will be rewarded for it.
Sophomore Kristina Meza of Los Angeles dropped in at the internship fair on a whim. The
political sciencemajor heard of the event from a friend who was hired as an intern last year through the fair.
So far, the
managementinternship at Enterprise Rent-a-Car sounds interesting, but I wouldn't mind finding one related to
socialwork, she said.