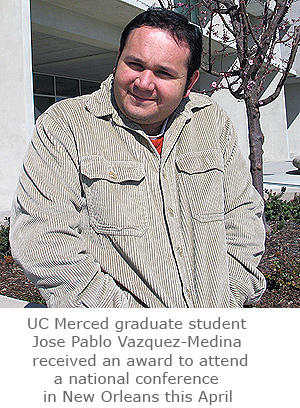 Jose Pablo Vazquez-Medina had two passions growing up: the ocean and its inhabitants and learning.
"I always liked the sea," said Vazquez-Medina, a Mexican native who grew up San Luis Potosi. "I was especially fascinated with how sea animals are adapted to their environment. I wondered why marine mammals could dive and hold their breath for long periods of time and people couldn't do the same."
Now, as a
doctoral studentin the
Quantitative and Systems Biologyprogram in UC Merced's
School of Natural Sciences, Vazquez-Medina spends his time learning about the physiology of mammals, specifically Northern elephant seals, as a research assistant in professor
Rudy Ortiz'slab.
Vazquez-Medina recently learned that another wish of his has come true: He is one of two winners of a travel award that will send him to the American Physiological Society's (APS) Experimental Biology meeting in New Orleans in April. He received the Novo Nordisk Foundation Travel Award, which covers his travel expenses and registration and includes a $500 cash award.
"I'm really excited," said Vazquez-Medina, who started at UC Merced last fall. "Honestly, I was surprised I won. I applied for it but didn't think I would win. When they told me I had won, I thought, "Oh my gosh!'"
Applicants had to submit an abstract in which they served as the primary author. The subject of his publication discussed glucose signaling in fasting Northern elephant seals.
"Even when they are not eating anything for long periods of time, elephant seals still experience glucose uptake in their cells," he said. "We are studying glucose signaling mechanisms to propose elephant seals as a model for diabetes research."
In addition to covering his travel and meeting expenses, the biggest part of the award, says Vazquez-Medina, is that he gets to organize either a symposium or a featured topic at a future Experimental Biology meeting.
"I will try to get some of the top people in this research field to participate," he said, "and the chance to meet other researchers doing similar things is great."
Vazquez-Medina attends UC Merced through a doctoral fellowship program called
UC MEXUS-CONACYT. The University of California Institute for Mexico and the United States provides seed funding for developing research and teaching collaborations between institutions in Mexico and the United States.
He earned his undergraduate degree in marine biology from the Universidad Autonoma de Baja California Sur and a master's degree from Centro de Investigaciones Biologicas del Noroeste.
"It will be my first time attending an APS meeting," Vazquez-Medina said. "It's not easy to come (to the United States) for a meeting when you're in Mexico. It's very expensive."
Meanwhile, he is staying very busy with classes and research while enjoying his time at UC Merced. His wife, Liza, is also a student in the QSB program and the couple has a 2-year-old child.
"It's been nothing but a good experience for us to be here at UC Merced," he said. "The academics and labs are excellent and the faculty is very supportive."