Manuel M. Martin-Rodriguez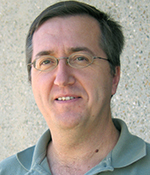 Professor
School of Social Sciences, Humanities and Arts
T: 209-217-7255
Hispanic culture in film, literature and television
The Hispanic population is by far the fastest-growing ethnic group in the United States, according to recent census data. California, Texas, Florida and other border states have experienced the powerful influence of Hispanic culture, from music and language to fashion and cooking, for many years. Now that culture, coupled with its growing economic and political clout, is moving rapidly through the American heartland, creating new sets of issues and opportunities on a national scale.
Martin-Rodriguez has devoted his career to the study of Hispanic culture and its characterization in film and literature, including children's literature. He is also an authority on immigration issues, which continue to generate headlines – and powerful emotions – on issues related to education, health care, labor, law enforcement, social justice and other aspects of assimilation.
His research is centered on U.S. Latino literature, with an emphasis on cultural studies and reception theories. He is the author of three books and has been published extensively in professional journals and edited volumes in both English and Spanish language.
Martin-Rodriguez joined the faculty at UC Merced in 2004. Previously, he served as director of Hispanic Studies and professor at Texas A&M University. He has also taught at the University of Wisconsin, Milwaukee, Wayne State University and Yale University. He earned an undergraduate degree from the Universidad de Sevilla (Spain), an M.A. in Spanish from the University of Houston and a Ph. D. in Hispanic Languages and Literature from UC Santa Barbara.
Visit his faculty website.