David Ardell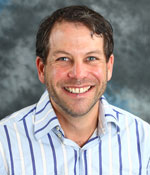 Assistant Professor
School of Natural Sciences
T: 209-228-2953
Genomics
Computational biology
Evolution
Gene expression related to growth, disease, stress and aging
Information flows through living systems all the time, on every level. Humans process conversations and written words. Information is expressed genetically in populations as they change and evolve. Even inside cells, chemical signals indicate how different mechanisms should respond.
"We all find it miraculous," said Professor David Ardell of the UC Merced School of Natural Sciences. "I've always been interested in a naturalistic answer for the miracle of life. Trying to explain how it all originated is very difficult. But we can learn a lot by focusing on the way things work and the way they change."
The way Ardell studies the flow of information in natural systems is, appropriately, through sophisticated analysis of information. He's a computational biologist specializing in genomics. He primarily uses this approach to examine gene expression systems. With the explosion of new information available as genomes have been mapped in the last several years, a computational approach is not just helpful, but necessary, he explained. Through his analyses, Ardell finds new ways to consider how cells function and operate within living systems and impact processes that affect all of us – things like growth, disease, stress and aging.
Ardell can respond to media inquiries about:
Origins of life, evolution
Genomics mapping of genomes and gene expression
Computational biology and bioinformatics
Human health: growth, disease, stress, aging