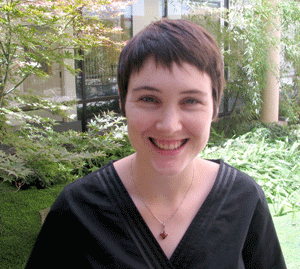 Professor Katie Winder feels her research on the economics of how childbearing influences women's employment and wages is very important not just to mothers, but all of society. Growing concern and attention in the media, business and academic worlds about how parents balance family with work substantiates the importance of her research to women and men, parents and non-parents.<
"My research interests came from my own personal desire to balance work and family, or rather, at the time, my need to start thinking about how I was going to do so," says Winder. "I realized that there was no good time for me to have children, since the key years in terms of establishing my career overlapped with my prime childbearing years."
She realized this is not a problem that only she faced, so she started looking into the economics of motherhood and why mothers make lower wages than childless women. "Are women quitting because they simply want to be home with their children or because their employers don't offer them alternatives to balance family with work? Winder asks. "Are those who do work earning less than childless women because they're putting in less effort, or are their employers passing them over for raises and promotions?" Winder says the next step is using the knowledge gained to understand what policies might allow women who want to work to do so and flourish.
She is also interested in the connection between work/life balance and poverty; in particular, in the unique difficulties faced by women in poverty who must work. Another study planned with fellow UC Merced colleagues will look at the impact of a universal preschool law on California. One important aspect Winder will consider is the effect of such a law on the wages and demand for child care workers. In a future course in labor and personnel economics, she will encourage students to research relevant topics and get involved directly with her research.
Winder's research is about to come full circle. She and her husband Michael are expecting their first child in January, which she considers to be a "qualitative" research project on work-life balance.