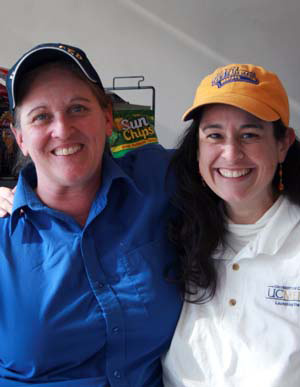 It's no wonder UC Merced students call Joy Von Mueller the "mom of the university." There's almost no one she doesn't know by name, and she always greets her Lantern Café customers with a genuine smile.
Von Mueller, a senior food service worker, started with UC Merced just before its grand opening and has been making students feel at home here ever since.
"There are lots of times I've settled issues for them," Von Mueller said. "They talk to me about boyfriends, girlfriends, family, classes, roommates - everything."
Students e-mail her between semesters, bring her treats from wherever they've been visiting and even call her on holidays to wish her and her family well.
That interaction keeps her happy at her work here. Von Mueller came from a family of four children and parents who opened their doors to anyone, and she and her husband and son have the same philosophy at their home now.
"There was always dancing, laughing - family is important," she said. "All the kids wanted to be at our house."
She understands that many of the students are away from their families for the first time and miss their families. Last fall, she helped sew dresses for several students who were going to the winter formal, and came down to campus during her off hours to help them get ready for the dance.
Away from work, it seems, Von Mueller is the same - always giving. A dedicated churchgoer, she offers her volunteer services to help others in the congregation and spends a lot of her free time helping a disabled woman who has become her friend over the past 15 years.
Like everyone on the staff at UC Merced, Von Mueller spent the last few days of winter break preparing for the students return. She couldn't wait to see them again and get into the middle of what she calls the "beautiful chaos" of a busy campus.
"As long as I can have time working with the kids," Von Mueller said, "I will always enjoy my job."