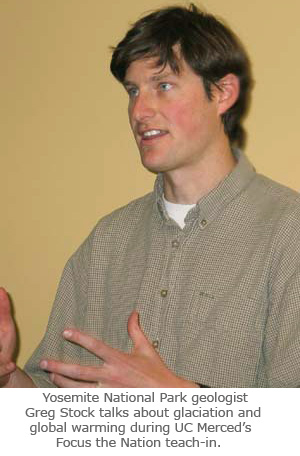 Students, faculty, staff and the local community gathered in UC Merced's Bobcat Lair on
Jan. 31to learn from each other about just about every aspect of global climate change - from sea ice to protest songs.
Eleven professors, including
Chancellor Steve Kang,
Dean Jeff Wrightof the
School of Engineeringand Acting Director
Roger Balesof the
Sierra Nevada Research Institute, shared their scientific and social expertise to address what's happening to the planet's climate, how it's affecting the human population, and how people can make a difference.
The diversity of presentations made for a day that everyone could enjoy. For example, Professor
Lara Kueppers'presentation about climate-ecosystem feedbacks like cloud cover and melting sea ice and how they contribute to global climate change was followed by Professor
Kevin Fellezssharing two pivotal moments in the history of protest music - Pete Seeger's God Bless the Grass and Metallica's performance at Live Earth.
Students made a contribution, as well. One of them, Elijah Meeks, who is pursuing a Ph.D. in
World Culturesand History with Professor
Ruth Mostern, pointed out the importance of integrating climate information into our understanding of history and vice versa.
As robust climate models continue to grow, we should explore ways to integrate social and political responses to climate into those models, he said.
In addition to faculty and student presentations, four guests from the National Park Service joined the group to talk about climate change in the national parks, especially
Yosemite
. Yosemite's park geologist, Greg Stock, pointed out the loss of some of the park's glaciers, and Lee Tarnay delved further into how climate change is affecting
Yosemite
. Jesse Chakrin followed up with information about how the national parks are responding to these changes.
The UC Merced administration also played a part, with Campus Energy Manager John Elliott sharing information about the campus response to climate change. UC Merced is one of the most energy-efficient university campuses in the world, and the
campus sustainability programis setting even higher goals for the future.