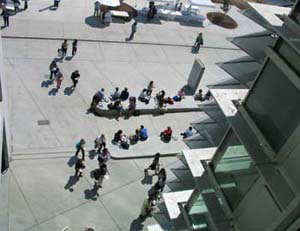 Summer sessionis a great way to get a few extra units under your belt and speed up your journey to college graduation. UC Merced offers students a live, interactive format so that they can attend summer session classes even when they're away from campus.
Registration for summer session 2007 starts Monday, Feb. 26 and continues up to the day classes start, June 18.
This year's course offerings include Japanese, writing, chemistry, economics, Spanish, psychology, math and many more.
Sophomore Michelle Comer took Calculus 1 last summer and said she wouldn't hesitate to take another summer course.
My class was even smaller than most of my classes during the fall and spring semesters, and was very interactive, Comer said. Our instructor was helpful and easily accessible.
Courses are taught on campus so students staying in Merced for the summer can fit them in, but for those who head south after the spring semester, summer courses are also broadcast to UC Merced's centers in Fresno and Bakersfield. The broadcasts are live, in real time, so students can interact with the instructors and with each other during class.
There are three sessions – six, seven and eight weeks long, depending on the course.
Shannon Adamson, who coordinates Summer Session, said last year's class offerings were popular, and she expects this year's will be, too. Professors like Virginia Adán-Lifante and a group of lecturers, will teach a variety of subjects, including chemistry, economics, math and psychology. More than 25 classes will be available this summer.
We are really excited to be able to offer summer classes, Adamson said. Students who live in and around our centers and the main campus will have lots of opportunities to continue their studies.
Courses are open to anyone 18 or older, even if they have not been accepted to a UC campus. A high school student who has completed 11th grade and has a letter of recommendation from a counselor or principal can also participate in summer session.
UC Merced began offering summer session courses in 2004.
This year's course schedule can be found at
http://summersession.ucmerced.edu/.