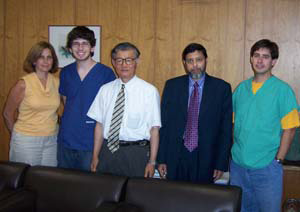 Back in Modesto, mom was understandably nervous. Her son had left for Japan, braving an unfamiliar language and culture, potential typhoons and North Korean hostilities to perform a summer's worth of biological research.
Fortunately, he stayed safe, learned about another culture, gained valuable scientific experience and even got to climb Mount Fuji.
Through his research position with UC Merced professor Rudy Ortiz and a fellowship from the UC Santa Cruz - MIRT Research Training Program, sophomore Andrew Mamalis spent the summer at Kagawa Medical University studying oxidative stress related to heart disease.
We worked really hard to collect all the data we need, and we're now setting up our lab on campus at UC Merced to begin analyzing it, Mamalis said. I'll probably be staying with this project through most of my college years.
He started working for Ortiz in fall 2005 as a freshman. Because he's a biological sciences major planning on a medical school career, the project should provide valuable experience.
As for his cultural experience in Japan, Mamalis said it went pretty smoothly.
We stayed at the International House at first with a Japanese 'mom' who did everything for us, he explained. Then I moved to a very traditional single apartment, with a futon and mats as furniture. The Japanese people I met and other international students were super nice and warm, taking me to the grocery store and helping me find things I needed.
It helped that Professor Nishiyama, Mamalis' advisor for the summer, spoke very good English, because Mamalis had no background in Japanese.
Ironically, UC Merced has started offering Japanese courses this semester, Mamalis said. I wish I could have had that before I left. But I might take some Japanese now.
In spite of the worries of the folks at home, the weather stayed pretty mild, and at the end of his trip, Mamalis was even able to reach the top of Japan's most famous landmark, Mount Fuji.
It's not everybody who gets that experience before they turn 20, he said through a summit-sized grin.