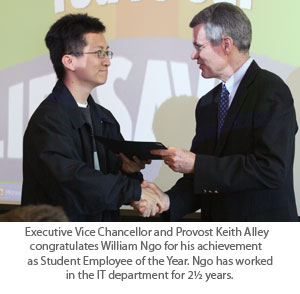 If it were up to
Information Technology Help DeskSupervisor Bobby Bliatout, William Ngo would be a full-time employee. That sentiment is merely one of many glowing remarks Bliatout made on Ngo's behalf when nominating him as Student Employee of the Year.
Ngo learned that he won the honor at the university's Student Employee Appreciation Reception, which was April 16. The annual event is the highlight of a week devoted to honoring the more than 400 students whose part-time work equals full-time gain for the university.
We could not keep this campus going without you, Executive Vice Chancellor and Provost Keith Alley said to the 100-plus student workers during last week's reception, adding that student workers are what keep college campuses alive.
You bring the zest to our campus community, he said.
The student employment program is managed by
Career Services. Kelly Patterson, assistant director of Career Services, said offering students on-campus jobs is a win-win situation.
The student employment experience provides an excellent opportunity for students to gain valuable work experience, build leadership skills, and build strong relationships that will allow them to begin their career development process, she said.
Ngo applied for his position as student IT consultant for the most basic of reasons.
I needed money, the junior
cognitive sciencesmajor said. I needed a job to pay my bills.
However, Ngo stayed because he realized early on that he had a rare opportunity in the IT department.
I'm getting great hands-on experience here that will help me excel later on in the real world, he said.
That experience has included creating training materials for other student workers, supervising more than a dozen of his peers and authoring manuals. His current task at hand is enhancing the content management system, which will make changing and updating university Web sites easier for their managers.
Ngo was one of three students honored at the reception. All three received a certificate of appreciation signed by
Chancellor Steve Kangand a portfolio to use in job interviews. As the top winner, Ngo's photograph and name will adorn a plaque that hangs in the Career Services office. He also won a $75 gift card to Best Buy. Second-place winner Jazmine Finley won a $50 gift card to Best Buy. Third-place winner John Watson won a $25 gift card to Best Buy. Finley works for the
Writing Program, and Watson is a student IT consultant with Ngo.
As for the value of devoting a whole week to appreciating student workers, Patterson believes it's immeasurable.
People innately want to be recognized for their hard work, she said. Students are no different in that respect than anyone else.