Student Employee of the Year Shines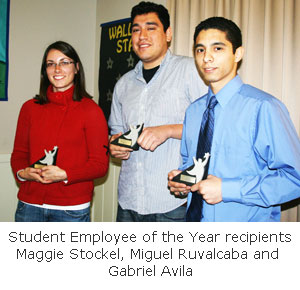 In addition to president of the Biomedical Engineering Society, vice president of the Society of Hispanic Professional Engineersand member of the Vanguard Engineering Society, graduating senior Miguel Ruvalcaba has one more distinction to add to his resume - Student Employee of the Year.

Students are the heart of every university, and each spring UC Merced proves it by recognizing its best student employees.

For the past three years, Career Serviceshas sponsored the Student Employee of the Yearcompetition to honor students who contribute their talent and skills to the campus through exemplary work performance.

For Ruvalcaba, a bioengineeringmajor who has worked as a lead office assistant in the Housing and Residence Lifeoffice since 2009, learning that he was awarded the designation at the Student Employee Appreciation Reception was an honor.

"I was very surprised and shocked. It is an amazing feeling to get recognized for this," Ruvalcaba said. "It was just my job and I did it, giving it the attention you would to any important project or task."

He said he couldn't have done it without the help of his team.

"I had never been in a supervisory position in a work place so I was worried about how I would perform," he said. "Thankfully my staff was amazing."

Ruvalcaba was nominated by Housing and Residence Life Officer Manager Delores Wright.

"The front desk of the Housing and Residence Life office is the first window to the rest of campus," Wright said. "What we do here is a reflection of what you will see as you go up the hill. Miguel understands this and teaches by example. I trust him completely to be a shining example of what the UC student and employee should be."

Ruvalcaba's photo will be placed on the Student Employee of the Year plaque displayed in the Career Services Center. In addition, he and the second and third place winners -Maggie Stockel from the UC Merced Libraryand Gabriel Avila from the School of Engineering, respectively - each have a trophy they can display proudly and a portfolio they can use when interviewing. 

All 15 student employees who were nominated students received a certificate of excellence. The committee who evaluated the applicants consisted of faculty and staff from various units on campus. The applications were ranked according to criteria established by Career Services, which include reliability, uniqueness of contribution, quality of work, initiative and professionalism.

"Most student workers are good at their jobs. Many have attributes that allow them to stand above the crowd," Wright said. "Miguel shines. More importantly, the students he supervises acknowledge that and aspire to it."
Media Contact