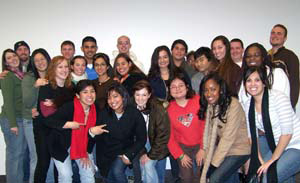 The academic year may be well over, but there's plenty going on at UC Merced, especially with
student clubs and organizations. Many of these groups have exciting activities planned for the summer of 2007.
Several groups are participating in
orientationsessions throughout the summer to help acquaint new students – UC Merced expects more than 600 of them this fall – with some of the activity options they'll have when they arrive on campus.
We'll have a booth to get the word out that we are here and drum up more participation, said Brenda Morris of the Bobcat Band.
Other groups participating in orientation include Chi Alpha, a Christian organization, and Ballet Folklorico, a traditional Mexican dance group. Both were among UC Merced's first student clubs.
Several organizations have even more activities planned for the summer.
Some Chi Alpha members are participating in international service trips to Kurdistan, India and Africa. On these expeditions they will work in orphanages, help elderly people and volunteer in remote villages.
But when they're at home they'll continue to meet with their counterparts at Cal State Stanislaus in Turlock every Friday night. They're also planning a picnic July 7 with water sports and volleyball and a two-day meeting in Turlock on Aug. 24 and 25.
The
UC Merced Police Department Mentoring Programwill implement its long-planned summer camp for students from Merced's Alicia Reyes Elementary School. Every Saturday between June 16 and Aug. 11, 15 UC Merced student employees and several more volunteers will work with Reyes students on campus. They'll teach math, science and writing skills as well taking fishing trips and nature walks.
Our goals are to prepare kids for next school year, introduce them to higher education, give them positive role models and show them that education and a positive attitude are the tools that will help them get by in life, said student Matt Siordia, who is working with the program.
Siordia added that the mentor program also helps UC Merced students who are preparing for careers in pediatrics, teaching and other child-oriented fields.