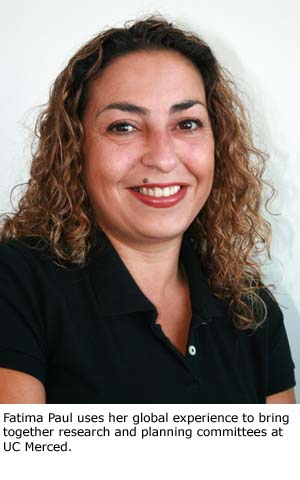 Fatima Paul, the committee analyst at UC Merced, makes her home in the Central Valley, but she lives in a global world.
Born in the French Alps, Paul finished her education at Montpelier with a master's degree in English literature. She worked for the National Institutes for Health/National Cancer Institute in Washington D.C. and the University of Miami School of Medicine.
While in Florida, she met a Merced native. Voilà - they fell in love, married and moved across the country.
Now she's settled in at UC Merced, where she coordinates the Undergraduate Council, the Graduate and Research Council and the Committee on Academic Planning and Resource Allocation. She also provides administrative support for committee operations.
"I have always enjoyed working in a university setting," said Paul, 38, who, like most French students of her era, started school at age 4 (French children now start school at age 2 ½).
She said she's excited about working at UC Merced because she feels it is an important addition to the San Joaquin Valley, in terms of education and also in terms of economic development for the region.
"I personally enjoy being part of a work in progress," she said. "UC Merced has enabled me to meet wonderful people and develop solid friendships."
She enjoys the geographic contrast of the Central Valley.
"It enables me to live in a rural setting with easy access to the city, the mountains and the ocean."
Paul learned to ski in France, where skiing was part of Wednesday afternoon physical education, along with ice skating. She also enjoys reading, walking, gardening, playing chess and board games.
"I believe in being open to the world and broadening your horizons," she said.
That's why she looks forward to the university offering more classes related to international affairs and foreign languages.
"We live in a global world," she said. "Therefore, it's beneficial to provide today's students with the necessary tools to become active players in the future."