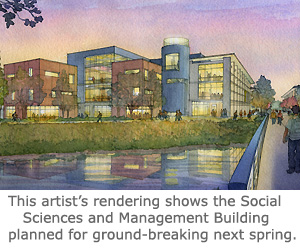 At the beginning of its third year serving undergraduate students on campus, UC Merced is preparing for still more construction to start.
Design approval came over the summer from the UC Regents for the next academic building, a three-story, $47.5 million expansion of the School of Social Sciences, Humanities and Arts.
The building will also house the planned E&J Gallo School of Management, funded by a $5 million gift from the famous wine-making family.
The new Social Sciences and Management building will stand on 1.5 acres next to the Science and Engineering Building near the current eastern boundary of the campus. Groundbreaking for the 101,900-square-foot building is planned for Spring 2008 with completion planned for spring 2010. The new building will allow the School of Social Sciences, Humanities and Arts to nearly double in size.
The school now has about 35 professors and the majority of UC Merced's undergrad students, studying history, the arts, economics, cognitive science, psychology, literature and cultures and political science.
Like all of UC Merced's buildings, the Social Sciences and Management facility will meet the campus's high environmental standards, including water-efficient landscaping and recycled materials. The building will be constructed to allow natural light for art studios and easy access for visitors and students. It will also contain room for laboratories where faculty members can work on their research projects.
But that's not the only construction in the works. In addition to expanding the Yablokoff-Wallace Dining Commons this year, there will be a new parking lot, called Lake Lot 2, opening in October, and other parking areas by the end of the year.
The campus has also received $10 million in extra funding for the next Science and Engineering building. This building will house open class laboratories, faculty laboratories and offices and shared laboratory support space. It is scheduled to open in fall 2012.
Construction also continues on Mariposa Hall in the Sierra Terraces dorms. This second phase of the new housing project will open in January. The first phase of Sierra Terraces, Tuolumne Hall, is already housing students this fall.