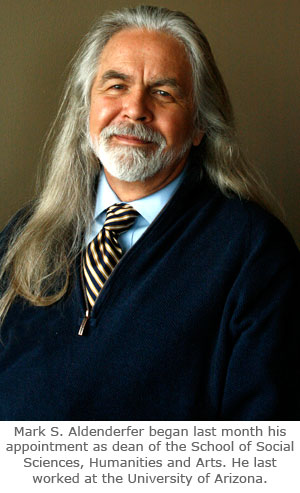 On Jan. 1, Mark S. Aldenderfer took the helm as dean of the
School of Social Sciences, Humanities and Arts(SSHA) - UC Merced's fastest-growing school. He had been an anthropological archaeologist at the University of Arizona. The following is an interview with him about his vision for the school and what he wants to accomplish.

What is your vision for the School of Social Sciences, Humanities and Arts?

I think there are two things I'd like to do over the course of my time as dean. One is to live up to the interdisciplinary ideal on which the campus was founded. I know UC Merced wants to push that as hard as we can, including finding new and innovative funding sources.
The second is a bit more traditional. We want to have strong programs as well to attract students. I should also point out that it's a little bit of a balancing act. I'll be honest. I see that as hard task. It's mostly about thinking about what faculty do well and encouraging them to find those niches.
I can be the cheerleader and help our faculty find funding sources. It's me being encouraging on one hand and offering assistance on the other. I can't make anyone do anything. That's not my job. My job is to create an environment where we can succeed.

What do you plan to do to make the vision reality?

We obviously are constrained by our budgetary realities. It will be another difficult year coming up. Working with the provost and senior administration, any new hires should be looked at strategically. We need to define the strengths that will make a difference.
Before I make any long-term decisions, I want to meet the faculty. I want to get a sense of what they want to do.

What attracted you to UC Merced?

I was at UC Santa Barbara for 15 years and I grew to love the UC system in all of its warts and all of its glories. I want to participate in a campus-building enterprise. You don't get opportunities like that much. I had no intention of being a dean at a place where I'm (solely) building an econ department and a psychology department. I want to find ways to create structures that are multidisciplinary in nature.
We really just can't solve problems that confront and confuse us as a society within a single discipline. My research tends to be driven by problems. I want to solve the problem and find answers to why I'm seeing what I'm seeing. In the field of archaeology, I have to be a jack-of-all-trades and a master in none. You solve problems by bringing different people into the mix.

What centers or institutes would you like to see developed?

The question needs to be answered through faculty discussion.
I do want to build in a GIS (geographic information system) capability. It's something all of us want and something the campus is sorely lacking.
In the future, I'll be looking for ways to connect the School of Social Sciences, Humanities and Arts and the other schools. There are synergies between SSHA and natural sciences and engineering. There are societal implications of bioengineering that can be explored, for example.
Another thing I really want to work on – and it's not entirely formed in my brain - SSHA needs to think of ways it will engage with the Central Valley community. I think building capacity in that domain will be important, whether it's through centers or cooperative arrangements or internships.
I think one of the reasons (the university) was put (in Merced) is to engage the community. Working on outreach in all of its forms reflects the thinking of what UC Merced was supposed to be about. It's something the campus is charged to do in the long run.
I see SSHA as having a greater role to play in reaching out to the Latino communities and the Hmong communities and seeing what we can offer them in terms of what academics are good at doing.

What kind of collaborations would you like to see?

I want to engage the faculty in finding collaborations to solve problems that interest them.

What qualities make someone a successful dean?

A thick skin is important. You have to be able to listen and you have to be able to make decisions when it's time. You have to be able to compromise in some situations. You have to have a sense of direction and vision, and convince others to work on plans for mutual benefit. A shared vision has to be created. A strong dean has to build that effort so the campus moves forward.

Do you plan to keep researching while dean? If so, what kind of research do you plan to do?

One of the strong points of my candidacy, I think, is that I'm still an active researcher, and I intend to be so. I want to be kind of an exemplar for research done within SSHA. I think in order to talk the talk you have to walk the walk. You have to be an effective researcher. I'll find ways to make this happen. Research is definitely part of my agenda. If you lose your interest in research and that edge, it doesn't make you an effective scholar or administrator in the long run.
I'm researching in two venues. One is on the Tibetan plateau, looking at its early occupation.
I've recently submitted a National Science Foundation grant to study ancient migrations in Upper Mustang, Nepal. The team includes anthropologists, historians, people who study ancient and modern DNA, archaeologists and mountaineers. It's a very interesting bunch. If we get the grant, we'll be thrilled. If not, we'll try again.
The questions are, "When people did get here? How did they get here? And what happened next?" Archaeology alone doesn't give me complete picture of the process. That's why we engage in other disciplines. I want to see that same philosophy pursued at UC Merced.

What are your top priorities this semester?

Getting to know faculty in SSHA, relearning the budget process and creating a robust strategic plan with faculty input. We have to come up with a strategic plan for hiring by February. This semester will be the time when we begin those conversations about what the medium-term directions for SSHA could be.  
What I'm really looking at is the bigger picture and how SSHA can collaborate with other schools.

Nervous?

Oh, yeah. There are things I don't know yet and I'll learn about them one way or another. Hopefully it will be the gentle way. It will take a bit of time. I don't want to make a lot of promises I can't keep. There is a level of nervousness. It's really a sense of anticipation. I'm looking forward to the challenges. You never quite know where we'll go.