Growing up in Bangkok, Surabordin Prachumsri knew what he wanted to do at an early age. Now in his final year at UC Merced, that hasn't changed for the 22-year-old.
"My mom is an anthropologist, and I always liked science as a kid," said Prachumsri, who goes by "Ai." "It's one of the things I'm really good at, so I better stick with it."
But there was something he didn't predict would become part of his college experience. That wouldn't come until he moved to the United States as a freshman in high school. Prachumsri began playing volleyball in high school in Torrance where he also played soccer. He stuck with volleyball, where the sport became a big part of his undergraduate experience at UC Merced. At 5-foot-4-inch Prachumsri played the defense and served as a captain on the men's varsity volleyball team (the program was added by the university's athletics department in the fall of 2013).
Prachumsri says his best memory is getting the first home win as a varsity team (a 3-1 victory over NCAA Division II team Holy Names University). Volleyball has also allowed him to see other parts of the country, including trips to Colorado, Texas, Kansas and Arizona.
Prachumsri was recently awarded the UC Merced Intercollegiate Athletics Bobcat Award, and he has juggled sports and academics while maintaining a 3.93 GPA as a bioengineering major. For Prachumsri, its part of a routine he's kept for years. "It's a lot easier for me than for some people," he said. "I was already spending a lot of time at the gym."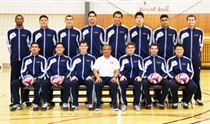 "Ai is one of those rare individuals that you wish you could have in your program every season," said David Noble, associate director of Recreation and Athletics, and the head coach of the men's volleyball team. "He is an intelligent student, a great teammate and an outstanding person."
Something else Prachumsri didn't anticipate — an extended stay in the U.S.
"My original plan was to come to study and go back to Thailand," he said. "But I may stick around a little longer."
He plans to start applying for medical school upon graduation. Prachumsri has made the most of his time at UC Merced, and he recommends incoming freshmen to do the same.
"My advice for incoming UC Merced students is just to have an open mind about the school, and try all the things that the school has to offer at least once," he said. "Since UC Merced is such a new campus many things are possible."