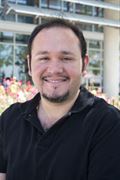 Born in central Mexico, the sea has long fascinated graduate student Jose Pablo Vazquez-Medina.
Now, he's hoping to figure out some of its secrets.
Vazquez-Medina this year earned his doctorate in Quantitative and Systems Biology from UC Merced's School of Natural Sciences. His research focused on how elephant seals are able to cope with oxidants produced in response to prolonged food deprivation and long, deep dives.
The graduate work he performed in Professor Rudy Ortiz's lab gave him a strong foundation in antioxidant research and has earned Vazquez-Medina a position as a postdoctoral researcher at the University of Pennsylvania, where he'll be charting the function of an antioxidant enzyme called peroxiredoxin 6.
Vazquez-Medina came to UC Merced after earning a UC MEXUS CONACYT grant. The fellowship is a collaboration of Mexico's Council for Science and Technology and the University of California.
As an undergraduate student, his curiosity with the ocean led him to the Autonomous University of Baja California Sur. He earned his master's degree from Baja's Northwestern Center of Biological Research in 2007 working with ringed seals and California sea lions.
From his time as an undergraduate, Vazquez-Medina focused on the role oxidative stress plays in the physiology of marine mammals. Holding their breath during long dives forces seals to do without oxygen — a fact that has led to some interesting adaptations.
For his dissertation, Vazquez-Medina studied elephant seals at Año Nuevo State Park in San Mateo County. Elephant seals exhibit breathing patterns that are very similar to how sleep apnea looks in humans, he said.
"But for them, it's natural," said Vazquez-Medina. "It's an adaptation that may help them prepare to dive."
As the seals snoozed, they would go without breathing for up to 20 minutes. Essentially, they were holding their breath. Closer studies showed the seals increase several antioxidants during their breath-holding. During ocean dives, which last up to two hours, these antioxidants likely protect their cells from damage, Vazquez-Medina suggested.
Vazquez-Medina recalled the intimidating learning curve he faced at UC Merced in 2008. He spoke little English, and relied on professors and other students to help his language skills improve, he recalled.
"They were good to me," he said. "They understood it was difficult at the beginning, and they took the time to help me understand everything."
Though the campus is a couple hours from the ocean, Vazquez-Medina said his research and professional development were supported in a number of ways.
"UC Merced is a great place with lots of opportunities," he said. "If you are willing to take those opportunities you will be well-prepared and can get what you want."